Beebe Launches Online Scheduling for COVID-19 Vaccination Appointments 
Image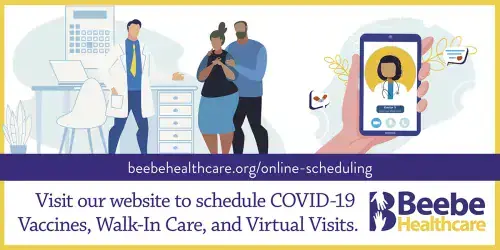 Building on the platform that has allowed 70,000 individuals on its COVID-19 Vaccine Wait List and patients to schedule appointments for Walk-In Care and telemedicine, Beebe Healthcare is now offering COVID-19 vaccination appointments via its secure, online scheduling system.
This enhanced online scheduling platform is available at www.beebehealthcare.org/online-scheduling.    
"We do not know how long the need for COVID-19 vaccine scheduling will be around, but we want to make it as easy as possible for individuals in the future," said Stephen Keiser, Vice President of Operations for Beebe Medical Group. "This is a fast and efficient manner to schedule your first dose, and we do have availability each week. This is all a part of Beebe's plan to make access to healthcare as easy as possible for everyone in Sussex County."
Patients will not be able to select what vaccine to receive, and the online scheduler is designated for those seeking their first dose. If you need a second dose appointment, call 302-645-3200. Beebe Medical Group will be adding appointments regularly, so be sure to check back if there are no appointments immediately available. 
"These online scheduling efforts for the COVID-19 vaccine complement what we are doing in the community," said David A. Tam, MD, MBA, FACHE, President & CEO, Beebe Healthcare. "Between the scheduled clinics throughout the county, the bookmobile partnership with Sussex EMS and libraries, and many more partnered clinics for those with barriers to the vaccine, I couldn't be prouder of team Beebe's efforts to serve all of Sussex County." 
In addition to COVID-19 vaccination appointments, Beebe Medical Group offers online scheduling for virtual visits (telemedicine) with all providers, including primary care, specialty care, and Beebe Walk-In Care. Individuals can schedule Walk-In Care appointments online for one of Beebe's four locations in Rehoboth, Millsboro, Georgetown, and Millville. 
If individuals are seeking a primary care provider, call 302-645-3332 to make an appointment with a provider near you who is accepting new patients. 
"Beebe Medical Group is recruiting new providers every day to improve access to our healthcare services," Keiser said.
Beebe Medical Group includes more than 20 specialty offices in more than 40 office locations throughout Sussex County. When patients see providers that are within the Beebe Medical Group, they enjoy the experience of seamless electronic medical correspondence between office visits, outpatient facilities and the hospital.
Practices include the specialties of: Cardiothoracic Surgery, Dermatology, Endocrinology, Family Medicine, Gastroenterology, General and Bariatric Surgery, Hospital Medicine, Infectious Diseases and Travel Medicine, Internal Medicine, Pediatric Neurology, Pulmonary & Sleep Disorders, Surgical Oncology, Urology, Vascular Surgery and Women's Healthcare. 
Four Walk-in Care Centers serve the community in Rehoboth Beach, Georgetown, Millsboro, and Millville from 9 a.m. to 7 p.m. daily. The group also operates three school-based health centers at Cape Henlopen High School, Sussex Central, and Indian River High School. 
---