Beebe Medical Center Honors Cheryl Graf with the "You Make a Difference" Award for May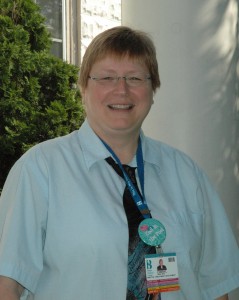 Cheryl Graf earns Beebe's "You Make a Difference" Award for May
Cheryl Graf, Director of Employment and Development at Beebe Medical Center, has been honored with the "You make a Difference" Award for May.
Cheryl's mission is to ensure that Beebe Medical Center has exceptional team members who provide quality healthcare and customer service to patients and their families. In an effort to reduce our turnover rate, she established monthly breakfasts for new employees to encourage a foundation for strong and trusting working relationships as staff learn more about Beebe Medical Center policies. These breakfasts have improved employee communication, leading to better patient care throughout the organization
Cheryl often has been called upon to facilitate root cause analysis efforts, bringing her together with staff and managers from other departments. She is known for her willingness to give these teams her full attention and to share her expertise in understanding and improving working relationships.
Cheryl has earned the respect of those in leadership roles at Beebe Medical Center. On a daily basis, managers, directors, and vice presidents come to her for advice on how to handle everyday personnel-related challenges within their departments. Moreover, her own department members speak highly of her. She encourages independence, but is always accessible when staff needs her support or expertise.
As an original member of Beebe's Book Club, she has been committed to participating in the readings and evaluations on books that can positively impact staff members and their careers. She enjoys learning and welcomes suggestions from everyone.
Cheryl is an outstanding role model and leader for all of us to follow, She truly "Makes a Difference" at Beebe Medical Center.
Beebe Medical Center's "You Make a Difference" (YMAD) employee recognition program, which was established in 2002, gives employees the opportunity to recognize their colleagues for outstanding service. The program is similar to an employee of the month program, but 18 employees can be selected annually. Each nomination, submitted by fellow employees or management, must meet specific criteria, and is evaluated by the YMAD committee. Winners are announced in a surprise ceremony in which the committee visits the winner in his or her department and presents the award. Employees selected for the award receive:
Parking space with sign/plaque for a month
$100 check
Letter of congratulations and personal visit from Jeffrey Fried, Beebe president and CEO
Photo for wall plaque on hall outside of cafeteria
Special pin for badge
Letter to team member's director and department recognition
Caption: Cheryl Graf earns Beebe Medical Center's "You Make a Difference" Award for May
Beebe Medical Center is a not-for-profit community medical center with a charitable mission to encourage healthy living, prevent illness, and restore optimal health with the people residing, working, or visiting in the communities we serve. For more information, please visit us online at www.beebemed.org
---