Beebe Medical Center Volunteer Beth Joyner receives Jefferson Award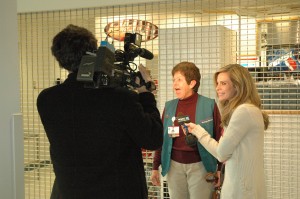 Beth Joyner was quite surprised when WBOC arrived to present her with the Jefferson Award.
Beebe Medical Center volunteer Beth Joyner has been honored with the Jefferson Award in recognition of her unselfish commitment to the citizens of Delmarva. WBOC reporter Lacee Griffith presented the award in a surprise ceremony in December at Beebe Medical Center's Sunshine Café.
"Beth is the epitome of what the word 'volunteer' means," said Lee Halloran, manager of Volunteer Services at Beebe Medical Center. "She gives of herself and goes above and beyond. She is there whenever we need her, and gets great satisfaction from the work that she does."
Beth has given her time and commitment to many in Sussex County. She and her husband Ed Joyner, who live in Millsboro, retired from the Sussex County Court System. For the past two years, Beth has been a volunteer patient transporter with the Patient Escort Department.
"She has given Beebe Medical Center about 550 hours in the last two years," Lee Halloran said, adding, "This year alone, she has given 340 hours."
Besides volunteering at the hospital, Beth volunteers one day a week at Gull House, Beebe Medical Center's adult day care center, where she helps with the activities and works with the clients.
"She's wonderful," says Gull House Activities Specialist Melissa Mallet, ADC, CDP. "She is a person that loves to work with people."
Beth also volunteers as a greeter at Tunnell Cancer Center, and with a literacy group that reads to the daycare children at Beach Babies in Lewes. In August 2011, she joined Team Beebe at the Extreme Makeover Project.
Several Beebe team members attended the surprise presentation that took place in the Sunshine Café. Special guests included Chris Moore, priest and associate pastor at the Parish of All Saints Church and Saint George's Chapel of Rehoboth, and his wife Janice.
"I've known Beth since I came to All Saints six years ago," The Rev. Moore said. "She is an active member and is dedicated to public service."
Each year, WBOC presents the Jefferson Award to Delmarva citizens who have gone unrecognized as they provide extraordinary public service. The station recognizes 10 people a year. The story about Beth and her award, as well as an interview with her, is available on the WBOC website, https://www.wboc.com/ this week. It also will be aired on television during the following time slots:
Monday 12/31/12 5:30 am and 11 p.m.
Tuesday 01/01/13 6 p.m.
Wednesday 01/02/13 noon
Thursday 01/03/13 6:30 a.m. and 7 p.m.
Friday 01/04/13 5 p.m. and 10 p.m.
Beebe Medical Center has an active volunteer program. Today, there are more than 600 volunteers, including 252 Auxiliary members, who regularly give their time to support the medical center and its patients.
In 2012, these committed individuals together gave more than 75,000 total hours of their time.
"This is an extremely giving community," said Lee Halloran "We are blessed to have so many volunteers dedicated to Beebe Medical Center."
---