Beebe Medical Foundation Appoints Marnie Oursler to Board of Directors  
Image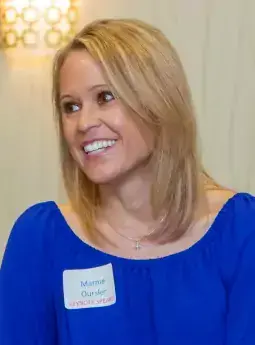 Christian Hudson, Chair of the Board of Directors of the Beebe Medical Foundation, announced that Marnie Oursler will now join the Foundation Board and serve as a Director.  
"Marnie brings such a great wealth of knowledge and enthusiasm for helping Beebe Healthcare to grow, especially in our South Coastal area," Hudson said. "I am so grateful for her willingness to serve."    
Marnie Oursler is President of Marnie Custom Homes in Bethany Beach, a thriving, award-winning business that gives back to the community and specializes in building sustainable, beach homes using locally sourced materials. She built the first LEED-certified home in the state of Delaware as well as one of the first 95% American-made homes in the country. 
"It is truly an honor to serve on the Beebe Medical Foundation Board with so many accomplished and committed leaders in our community," Oursler said. "I am very excited for this opportunity."
She was the host of Big Beach Builds that ran for two seasons on The DIY Network. Her innovative use of materials, impeccable craftsmanship, brilliant design sense, and unparalleled work ethic have put Marnie in high-demand as a thought-leader. She continues to revolutionize the industry with a fresh approach to established building practices and processes. 
"It is a pure joy to welcome Marnie to our Foundation Board," said Tom Protack, President, Beebe Medical Foundation. "Marnie has always been a loyal member of the 1916 Club and a supporter of our Beebe Fundraising events. The Foundation Team and Board looks forward to working closely with her. I am so thankful she is willing to share her many gifts and talents with us."
Since it was established in 1989, Beebe Medical Foundation has been raising money to help fulfill Beebe Healthcare's not-for-profit charitable mission, which is to encourage healthy living, prevent illness, and restore optimal health to the people residing, working, or visiting the communities it serves. As an independent, not-for-profit healthcare system, Beebe Healthcare could not serve our growing community without local philanthropy. To learn more, go to beebemedicalfoundation.org.
---