Beebe Medical Foundation Celebrates Local Realtor Andy Staton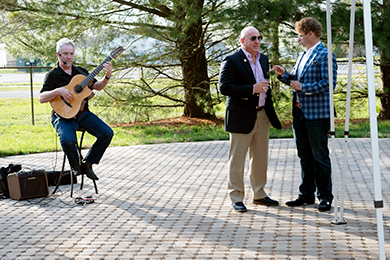 Recently, local realtor Andy Staton hosted an outside patio party at the Beebe Medical Foundation. Andy was the successful bidder on this live auction item for a patio party of 25 guests. Andy invited members of his group and some clients and vendors who work closely with him to help home buyers in our community.
Shown left to right: Paul Cullen performs as Tom Protack, Vice President of Development, and Andy Staton speak during the Beebe Medical Foundation patio party.
For more information about Beebe Medical Foundation or to make a donation, call (302) 644-2900 or go to www.beebemedicalfoundation.org. To learn more about how Beebe is Creating the Next Generation of Care, go to www.nextgenerationofcare.org.
---