Beebe Medical Foundation Embarks on New Campaign: 'Sussex Supports Beebe Healthcare'
Image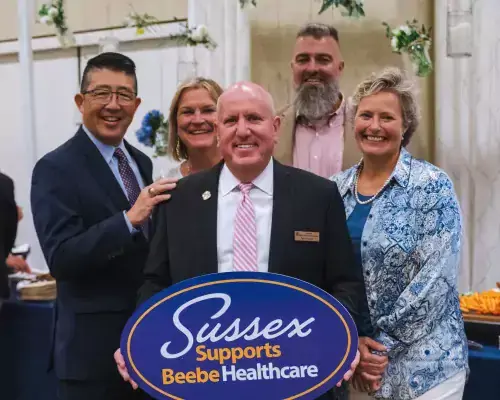 Beebe Medical Foundation is launching a new fundraising campaign in the vision of One Beebe that will help fund health initiatives that make a direct impact right here in Sussex County. The "Sussex Supports Beebe Healthcare" campaign has a goal of $22.5 million and will run through June 20, 2026. It was announced Tuesday, Oct. 11 at Beebe Medical Foundation's annual 1916 Club reception.
"We are pleased to introduce this comprehensive campaign that focuses on all current projects and services, strengthening core service lines, as well as establishing new programs," said Tom Protack, President, Beebe Medical Foundation. "We were excited to share the news with our 1916 Club, which surpassed 500 members this year, making this annual giving club a million-dollar community effort in support of Beebe."
Focus areas include:
Cultivating the Next Generation of Primary Care Physicians through the R. Randall Rollins Center for Medical Education at Beebe Healthcare
Bringing care to the community and the community to care as Beebe's Population Health department aims to expand access to care for those who need it most
Delivering comprehensive Women's healthcare at Beebe's Center for Breast Health.
It will also focus on enhancing core services such as:
Growing and strengthening comprehensive Cardiovascular and Neurological services – holistic, patient-centric heart care with an emphasis on continuity
Oncology Services delivered by a unified team of physicians, providers and specialists committed to excellent care and convenient access, renovation of the Tunnell Cancer Center.
"We have developed our five-year strategic vision, and the funds raised by this campaign will bolster our One Beebe plan," said David A. Tam, MD, MBA, CPHE, FACHE, President & CEO, Beebe Healthcare. "You can see the outline of the campaign's goals that the focus and impact will better the health and the lives of the people of Sussex County. We thank you for your support in the past, present and now future."
The campaign will be chaired by Ann Raskauskas, owner of Bethany Area Realty and member of the Beebe Medical Foundation Board of Directors. Raskauskas has long been active in the fundraising community as the founder of the Bethany Beach Breast Cancer Run, which has regularly donated to Beebe Oncology Services.
"It is an honor to be involved with this next stage of growth for Beebe Healthcare," Raskauskas said. "My immediate family, friends and clients have already benefited firsthand from the new Beebe Emergency and Oncology Services at the South Coastal Health Campus near Millville. I have personally benefited from Beebe's outstanding Cardiovascular services for years. I look forward to helping raise funds for the Beebe Medical Foundation to ensure that our community members will continue to obtain the same excellent healthcare services locally without the need to travel out of town or across the bridge."
Fellow committee members include:
Juli Short Decker, Beebe Medical Foundation Board of Ambassador
Katie Johnson, DO, Medical Director of Palliative Care, Beebe Medical Foundation Board Member
Jeffrey Hawtof, MD, FAAFP, Director of Provider IT and Medical Education
Karen Pickard, DNP, MSN, RN, Director of Margaret H. Rollins School of Nursing
Christian Hudson, Beebe Medical Foundation Board Chair
Thomas Protack, Beebe Medical Foundation President
Kay Young, Beebe Medical Foundation Executive Director of Development
"Since the first major philanthropic gift made to Beebe by Mr. and Mrs. Benjamin F. Shaw to build and equip a 35-bed medical facility in 1921, more than $115 million has been raised to fund new and ongoing medical programs, purchase life-saving medical equipment, and for the construction and renovation of medical facilities," Protack said. "Sussex Supports Beebe is a continuation of this giving tradition as your local not-for-profit healthcare system remains dedicated to this community."
---