Beebe Medical Foundation Forms New Charitable Gift Planning Advisory Council
The Beebe Medical Foundation recently formed a new Charitable Gift Planning Advisory Council to support their efforts in the community. The council is made up of two dozen area professionals who work in charitable gift planning, including estate planning attorneys, financial advisors, CPAs, insurance representatives, and funeral directors.
"Many hospitals and healthcare systems have Planned Giving Councils in place, and as Beebe embarks on its next generation of care, we are proud to have the support of this new group," said Beebe Medical Foundation Gift Planning Officer Diane Barlow.
The council will meet twice a year to hear from Beebe's leadership and share ideas. It kicked off its inaugural orientation meeting on November 14 at Beebe Healthcare's Margaret H. Rollins School of Nursing. Members heard from Jeffrey M. Fried, FACHE, President and CEO, Beebe Healthcare, about Beebe's plans for expansion in Sussex County. They also heard from Judy L. Aliquo, President and CEO, Beebe Medical Foundation, who described the Shaw Legacy Society, a society established to recognize donors who have remembered Beebe in their will or estate plan or with a gift that is providing the donor with lifetime income. The meeting concluded with a tour of the School of Nursing led by administrator Karen Pickard.
In addition to learning more about Beebe and its service to the community, the advisory council will be called upon to help with strategies for increasing support for Beebe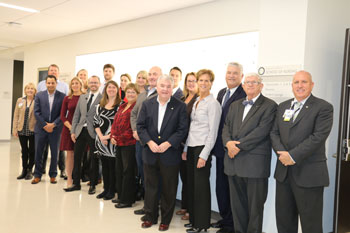 Healthcare through charitable gift planning. Their next meeting will take place at Tunnell Cancer Center in April 2018.
"The importance of a strong community hospital cannot be overstated. Beebe serves everyone in the community. I chose to become involved to help those in the community who want to give back to their community hospital. There are many ways of giving and I look forward to facilitating charitable giving to Beebe," says Deirdre McCartney, Esq., Sergovic, Carmean, Weidman, McCartney & Owens, P.A.
"I chose to participate because I want to help make Sussex County one of the most attractive places to live in the country. Having first class health care is a major component to making that happen," adds Eddie Ghabour of Key Advisors Group, LLC.
As Beebe embarks on its next 100 years of service and care for our Sussex County communities, we look forward to working with this new advisory council to strengthen the role planned gifts will play in supporting these efforts.
Photo Caption: (Shown left to right- Front Row): Judy Aliquo, President & CEO, Beebe Medical Foundation; Eddie Ghabour; Alison Houck, CPA; Ken Reese, CFP; Deirdre McCartney, Esq.; Kathy DeLacy, Esq.; Burt Hutchinson, CPA, CFP; Bill Berry, CPA; Venise Kramarski; Bob Herrington; Tom Protack, Vice President of Development, Beebe Medical Foundation; (Left to right- Back Row): Brad Travis; Kit Ryan, CFP; Tyler Luff, CPA; Christophe Emmert, Esq.; Alana Keeley; Michael Bellaty; Cindy Szabo, Esq.; and Bill Purnell, Esq.
Beebe Medical Foundation was established in 1989 with the sole mission to raise philanthropic support for Beebe Healthcare. The Foundation is located at 902 Savannah Road, Lewes, DE 19958. To learn more about how you can give, please contact the Beebe Medical Foundation at (302) 644-2900 or visit us online at Beebe Medical Foundation.
Beebe Healthcare is a not-for-profit community healthcare system with a charitable mission to encourage healthy living, prevent illness, and restore optimal health for the people residing, working, or visiting in the communities we serve. It offers services throughout Southern Delaware for residents and visitors, including a 210-licensed-bed hospital, a cancer treatment center, home care services, and outpatient facilities providing walk-in care, lab, imaging, and physical rehabilitation services. For more information, please visit us online at Beebe Healthcare.
---