Beebe Medical Foundation Grateful for The Movies at Midway's Popcorn Bucket Fundraising Initiative
Beebe Healthcare and Beebe Medical Foundation are proud to announce that the Derrickson family and Atlantic Theatres' The Movies at Midway will launch a multi-year fundraising initiative in support of the "I Believe in Beebe" campaign. Kicking off on this Friday, October 12, The Movies at Midway will unveil a newly designed, refillable popcorn bucket and will donate a portion of the proceeds from the sale of each bucket to the construction of Beebe Healthcare's new Specialty Surgical Hospital at the Rehoboth Beach Health Campus.
Why not see a movie this weekend? Opening Friday, October 12th with the launch of this fundraising effort is "Goosebumps 2: Haunted Halloween," "Bad Times at the El Royale," "First Man," and "Colette." For more up-to-date information, visit www.moviesatmidway.com. Come enjoy a movie and help The Movies at Midway support Beebe Healthcare, your local not-for-profit healthcare system.
As a third-generation entertainment enterprise, Atlantic Theatres' The Movies at Midway values the fact that Beebe Healthcare offers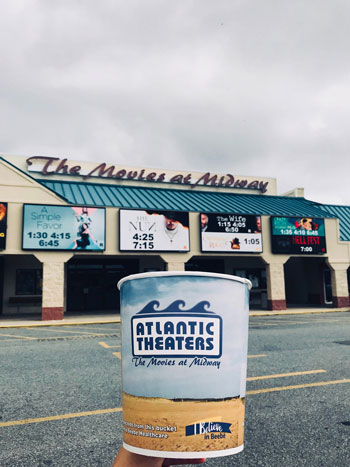 state-of-the-art healthcare right here at home—being a part of the community has been and continues to be an important part of The Movies at Midway.
"My children were born at Beebe, my sister's children were born at Beebe, and we have experienced excellent emergency care at Beebe," said Tiffany Derrickson, Vice President of Atlantic Theaters. "We believe in supporting Beebe because we live here and this is our community's hospital. My father, Rickard Derrickson, served on Beebe Medical Center's Board of Directors from October 1994 until June 2004 and my sister, Sabrina Hill, served on Beebe Medical Foundation's Board of Directors from May of 2012 until October of 2015."
The funds raised from the popcorn bucket initiative are in loving memory of the Derrickson family's sister, Rosemary Burton (January 17, 1955- March 2, 1974). The Derrickson family's goal is to contribute $500,000 with this five-year effort.
"This is another example of a strong and loyal partnership with a locally owned family business which truly believes and gives locally to make the lives of Sussex County residents better! The Derricksons are life-long supporters of Beebe and know the importance of giving back to the community which supports their business. It's truly an extraordinary example of families helping families and neighbors helping neighbors," shared Judy L. Aliquo, President and CEO of Beebe Medical Foundation. "As moviegoers enjoy their popcorn, they will also enjoy the fact that part of their payment is going to help Beebe create the Next Generation of Care."
---