Beebe Medical Foundation Hosts Loyalty Society Breakfast to Thank Donors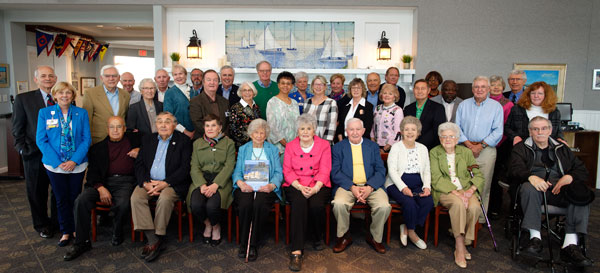 Beebe Medical Foundation hosted its Loyalty Society Breakfast at the Lewes Yacht Club on April 19. The annual event celebrates loyal and generous donors who have given to Beebe for at least three consecutive years.
"Everyone here has consistently shown they believe in Beebe," said Judy L. Aliquo, CFRE, President & CEO of Beebe Medical Foundation. "Please know your loyal support is truly appreciated and it is my great pleasure to be able to thank you today for your incredible generosity."
The special gratitude event was attended by many of Beebe's Loyalty Society Members and featured a special presentation from Maryanne Murray, local business owner of Griswold Home Care and loyal Beebe donor since 2012.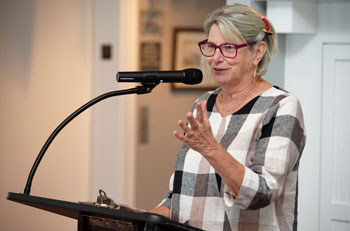 "I want to live in a community with a great medical center!" said Murray. "I loyally support Beebe Healthcare to make sure Beebe can grow and expand, and continue to serve our entire community with its excellent care."
This was a common theme among the other loyal donors when they were asked, "Why do you loyally support Beebe Healthcare?" Like Ms. Murray, many answered that the health of our community is vital, and having a 'first-class medical system like Beebe Healthcare' accessible throughout the county is critical.
Jeffrey M. Fried, FACHE, CEO and President of Beebe Healthcare, ended the morning's breakfast reception with his thanks to the gathering of loyal supporters and presented an overview of Beebe's comprehensive plans for expansion throughout the county. To support Beebe Healthcare, go online to www.beebemedicalfoundation.org and make your gift today!
To find out more about how Beebe is planning to Create the Next Generation of Care, go to www.nextgenerationofcare.org.
Caption- Photo at top: Shown are (left to right) in the back row: Jim Pierce, Richard Sharp, , Alex Moore, Phil Wescott, Bob Moore, Jan McCarty, Cheri Rich, Philip Ranalli, Dennis Chupella, Lillian Kuretu, Dr. Mwazhuwa Kuretu, Peggy Fisher and Bob Fisher. In the middle row are: Jeffrey Fried, Judy Aliquo, Ron Barlow, Dot Barlow, Natalie Popham, Bob Schnepfe, Dee Moore, Bonnie Hall, Maryanne Murray, Christine King, Carole Suchanek, Rich Ruffino, Rob White and Carol Cavallero. In the front row, seated, are: Dr. Anis Saliba, Dr. William Lord, Mrs. William Lord, Anna Beebe-Moore, Christine Csider, Ron Csider, Diana Ruffino, Doris Lauer and Bob Cavallero.
Caption - Photo above: Maryanne Murray spoke to those attending the 2018 Beebe Medical Foundation Loyalty Breakfast at the Lewes Yacht Club.
---