Beebe Medical Foundation Receives $7,600 from Revelation Craft Brewing
Image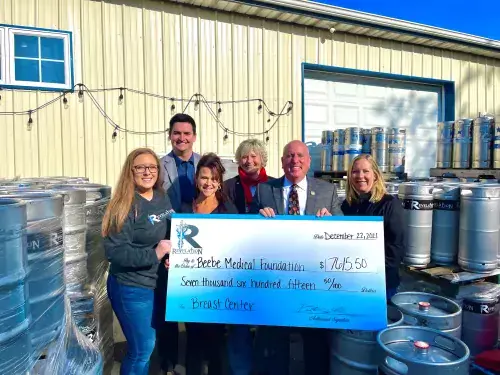 Revelation Craft Brewing Company presented Beebe Medical Foundation with a check for $7,615.50 from the Hudson Fields Beer Garden in Milton.
The Revelation-sponsored beer garden wrapped up a successful fourth season in October.  From the end of April through October at Hudson Fields in Milton, Revelation offered eight brews on tap, accompanied by outdoor seating, a mix of rotating food trucks, live music and family-friendly fun.
"The Hudson family has done so much for the local area and this venue has been an incredible destination in that has now become a favorite for so many loyal guests," said Patrick Staggs, President and Brewmaster. "I am so proud of our team at Revelation for making this summer such a tremendous success and I am thrilled at the impact it has had on local charities and particularly our partners at Beebe."
Revelation ended the season with a final push to donate to Beebe by having a Food Truck Bucks for Beebe Fundraiser finale. It featured 10 Food Trucks that participated and donated a small sample of their best dishes to be judged by the community. This alone brought in over $2,000.
"The Foundation is so grateful for the loyal support of the entire team at Revelation," said Tom Protack, President, Beebe Medical Foundation. "Each year our partnership grows stronger and Revelation creates new and fun ways to make it easy to support Beebe Healthcare!"
Revelation will repeat this event in support of Beebe Medical Foundation for the Grand Reopening on Friday, April 29 from 4-9 p.m. Revelation has also donated funds in excess of $10,000 to other charitable foundations, all from events at Hudson Fields.
Caption: From left to right, Stephanie Hertz, general manager, Sean Flannigan, Gift Officer, Beebe Medical Foundation, Kyle Shaffer, marketing and sales manager, Kay Young, Executive Director of Development, Beebe Medical Foundation, Tom Protack, President, Beebe Medical Foundation, and Amy Popovich, Event Coordinator, Beebe Medical Foundation.
---