Beebe Medical Foundation Receives Donation from The Body Shop Boot Camp Fundraiser
Image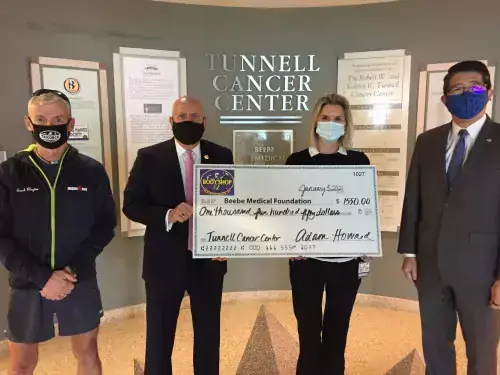 The Beebe Medical Foundation received a generous gift of support from The Body Shop from their annual Thanksgiving Day Beach Boot Camp. This year, the event raised $1,550 for Beebe Healthcare's Tunnell Cancer Center.
Pictured left to right: Bruce Layton, The Body Shop and Tri-Coach, Tom Protack, President of Beebe Medical Foundation, Leks Howard, Oncology Nurse Tunnell Cancer Center, and Dr. David Tam, President & CEO of Beebe Healthcare (not pictured - Adam Howard, The Body Shop).
For more information about Beebe Medical Foundation or to make a donation, call 302-644-2900 or go to www.beebemedicalfoundation.org. To learn more about how Beebe is Creating the Next Generation of Care, go to www.nextgenerationofcare.org.
---