Beebe Medical Foundation's President & CEO Judy Aliquo Receives Fundraising Executive Award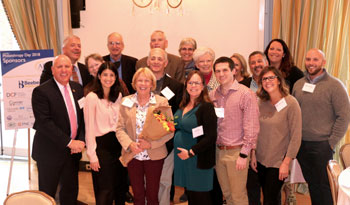 Beebe Medical Foundation's President and CEO, Judy Aliquo, recently received the Fundraising Executive Award as part of the Brandywine Chapter of the Association of Fundraising Professionals (AFP).
This prestigious award recognizes an individual with at least 10 years of experience as a fundraising executive and whose professional performance and service to the profession and the community is an inspiration. The Brandywine Chapter serves the communities of the Brandywine Valley, including Delaware, Southeastern Pennsylvania, Eastern Maryland, and Southwestern New Jersey.
Judy Aliquo has served as President and CEO of Beebe Medical Foundation since September 2013. Before joining Beebe, Judy worked at Wilmington Friends School for 23 years, serving as the Business Manager, 250th Anniversary Coordinator, and Director of Development. As Director of Development for Wilmington Friends School, Judy raised a record $60 million for the school with two major capital campaigns.
"I was so thrilled to see Judy receive this award. Judy has done an amazing job in the five years that she has served as President of our Foundation. She has truly transformed the organization, significantly increased our fundraising, as evidenced by our largest single gift ever (a $10 million gift from the Ma-Ran Foundation), and has more than doubled the most money Beebe has ever raised in a capital campaign, although we are not yet finished with our 'I Believe in Beebe Campaign.' She is a terrific colleague and a valued member of our Leadership Team," said Jeffrey M. Fried, FACHE, President & CEO, Beebe Healthcare.
Since serving as President and CEO at Beebe Medical Foundation, Judy, along with her dedicated team of professionals, has worked tirelessly with Board member recruitment. The Beebe Medical Foundation Board members have a generous spirit of financial giving, in addition to giving of time and talents. Under her leadership, the Beebe Medical Foundation has gone from raising $1.6 million a year to a record year in 2018 of over $20 million.
"I am so honored and humbled to receive this fundraising executive of the year award. Many of my mentors that I admired greatly have received the award in past years," shared Ms. Aliquo. "I am so proud to be a fundraiser and have been fortunate to be surrounded in my career by amazing board members, campaign chairs, and colleagues. Donors inspire me every day by their incredible generosity. At Beebe, I particularly love gifts celebrating and in honor of our Beebe heroes – our doctors and nurses – who save and change lives every day."
Under Judy's tenure, a transformational gift of $10 million was received from the Ma-Ran Foundation, from Margaret H. "Peggy" and Randall Rollins. This gift was the largest in Beebe's history, the largest in Sussex County, and one of the largest in the state. Their generous gift will fund the renovations at the newly named Margaret H. Rollins Lewes Campus.
Judy began the "I Believe in Beebe Campaign" in January 2016. The public phase of the campaign was officially announced on October 29, 2018, with $29 million raised to date. The campaign's goal is $34 million, which will help fund Beebe's planned $240 million expansion of services and facilities throughout Sussex County. This is another historic record for Beebe and Sussex County. The largest campaign in Beebe's past history was in 2005, raising $12 million in a 5-year period.
In her fundraising career, Judy has raised over $100 million to support education and healthcare. Judy is a recognized community leader in Sussex County and is a member of the Village Improvement Association (VIA) and Fund for Women.
Photo Caption: Shown is Judy Aliquo, center, at the awards ceremony surrounded by colleagues, friends and family. Shown in front (left to right) are Tom Protack, Vice President of Development, Beebe Medical Foundation; Tina DiSabatino, Alumni Director for Wilmington Friends School; Judy Aliquo; and family members Emily and Gabe Aliquo; and Erin Aliquo Clevenger.
In the second row are Dave Szumski, Gift Planning Officer, Beebe Medical Foundation; Mona and Tim Bayard, WFS Donors; Jeffrey Fried, President and CEO, Beebe Healthcare; Bill Baczkowski, Associate Head for Finance and Operations at WFS; Diane Barlow, Gift Planning Officer, Beebe Medical Foundation; Janet McCarty, Beebe Board Member; Karen Duffield, Annual Fund and Grants Coordinator, Beebe Medical Foundation; Jim Aliquo; Leanne Silicato Prosser, Beebe's 100th Anniversary Coordinator; and Kyle Clevenger.
Beebe Medical Foundation was established in 1989 with the sole mission to raise philanthropic support for Beebe Healthcare. The Foundation is located at 902 Savannah Road, Lewes, DE 19958. To learn more about how you can give, contact Beebe Medical Foundation at (302) 644-2900 or go to www.beebemedicalfoundation.org.
---