Beebe Medical Group Announces Dr. Bobby Gulab as Senior Vice President, Chief Medical Officer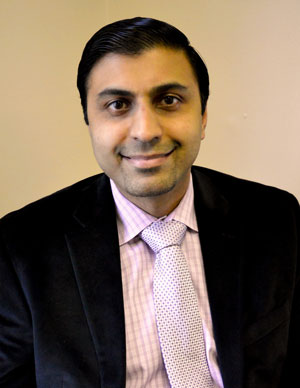 Beebe Healthcare and Beebe Medical Group are proud to announce that Dr. Bobby Gulab has been named Senior Vice President and Chief Medical Officer for Beebe Medical Group.
Beebe Medical Group is comprised of 20 specialty offices in 43 locations throughout southern Delaware. When patients see providers that are within the Beebe Medical Group, they enjoy the experience of seamless electronic medical correspondence between office visits, outpatient facilities and the hospital.
"I am particularly pleased to be able to announce that Dr. Bobby Gulab has stepped into the new role of Senior Vice President and Chief Medical Officer of the Beebe Medical Group. As more and more physicians seek employment as an option to private practice, the Beebe Medical Group will continue to grow and play a critical role in the growth and success of Beebe Healthcare," said Jeffrey M. Fried, FACHE, President & CEO, Beebe Healthcare. "Dr. Gulab's background as both a hospitalist and an internist seeing patients in his office provides a wonderful foundation as he moves into this important leadership role, and leads the medical group through the many changes taking place within the healthcare industry. As a member of the Executive Staff here at Beebe Healthcare, Dr. Gulab will provide important insights and expertise for our leadership team and we look forward to working with him as we continue to strive to position Beebe Healthcare as the leading healthcare organization in our region."
Dr. Gulab, Board Certified in Internal Medicine, serves as a physician with the Hospital Medicine Program at Beebe Healthcare and is an internal medicine physician, seeing patients with Beebe Primary Care – Lewes.
Dr. Gulab, a native Sussex Countian, earned his Bachelor of Science degree in biology from Delaware State University. He earned his Doctor of Medicine degree from Ross University School of Medicine. He completed his internship at MetroHealth and the Cleveland Clinic and his residency training at Christiana Care Health System. He also earned a Master of Business Administration degree with a concentration in healthcare from the University of Delaware.
Dr. Gulab returned to Sussex County in 2013 to practice internal medicine at Beebe Healthcare.
"I am very thankful and excited for the opportunity and I look forward to working with our physicians, others within BMG, and our executive staff leadership," said Dr. Gulab. "Beebe Medical Group will continue to play an important role in our healthcare system and is committed to meeting the current and expanding needs of our community."
"The Beebe Medical Group Board of Directors is excited to welcome Dr. Gulab into his new position. The excellent quality care and service provided by the medical group will benefit from his familiarity with Beebe Healthcare, as well as his experience and perspective as both a physician and a healthcare leader with a focus on growing and creating the next generation of care," said Dr. Daniel Cuozzo, Chair, Beebe Medical Group Board of Directors.
Beebe Medical Group practices include the specialties of: Audiology, Cardiac Surgery, Dermatology, Endocrinology, Family Medicine, Gastroenterology, General Surgery, Hospital Medicine, Infectious Diseases and Travel Medicine, Internal Medicine, Otolaryngology (ENT), Pediatric Neurology, Pulmonary & Sleep Disorders, Surgical Oncology, Urology, Vascular Surgery and Women's Healthcare. Four Walk-in care locations serve the community in Rehoboth Beach, Georgetown, Millsboro, and Millville. The group also operates three school-based health centers at Cape Henlopen High School, Sussex Central, and Indian River High School.
In 2017, all nine of Beebe Medical Group's family medicine locations received NCQA Patient-Centered Medical Home (PCMH) Recognition from The National Committee for Quality Assurance (NCQA) for using evidence-based, patient-centered processes that focus on highly coordinated care and long‐term, participative relationships. For more information on Beebe Medical Group, go to www.beebemedicalgroup.org.
Beebe Healthcare is a not-for-profit community healthcare system with a charitable mission to encourage healthy living, prevent illness, and restore optimal health for the people who live, work, and visit the communities we serve. The medical center in Lewes is a licensed 210-bed hospital with specialized service lines, including cardiac and vascular, surgical services, medical oncology/hematology and radiation oncology, women's health, and orthopaedic services. Outpatient facilities, conveniently located throughout Sussex County, provide primary care, walk-in care, lab, imaging, and physical rehabilitation services, in addition to Beebe's home care services. For more information on services offered through Beebe, go to www.beebehealthcare.org. To find out how Beebe Healthcare is creating the next generation of care for the community, go to www.nextgenerationofcare.org.
---