Beebe Medical Group Expands Specialty Services with Addition of Nicole Ryan, MD, Pediatric Neurologist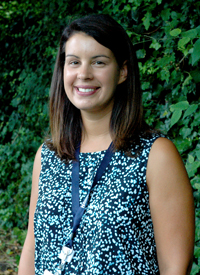 Nicole Ryan, MD, Board Certified in Neurology with Special Qualification in Child Neurology, and Board Certified in Epilepsy, has joined Beebe Medical Group.
Dr. Ryan is based at Beebe Primary Care – Lewes at 1305 Savannah Road. Dr. Ryan sees pediatric patients with epilepsy, headaches, tics, autism, concussion, developmental delay, and other neurological conditions. To reach the practice, call (302) 313-1040.
Prior to coming to Beebe, Dr. Ryan completed her residency training in child neurology and fellowship training in pediatric epilepsy at the Children's Hospital of Philadelphia. She spent six years as an attending physician and Assistant Professor of Neurology and Pediatrics at the University of Pennsylvania, treating pediatric neurology patients in the inpatient and outpatient settings.
Dr. Ryan completed her medical degree at Albert Einstein College of Medicine in New York, and received her undergraduate degree in psychology from Cornell University.
At Beebe, Dr. Ryan looks forward to providing pediatric neurology outpatient services for children on the Delmarva Peninsula while working with the emergency department and inpatient team to improve all aspects of care.
She moved to the Lewes area with her husband, Sean Ryan, MD, who is a vascular surgeon with Beebe Vascular in Lewes.
Beebe Medical Group, the employed physician medical group under Beebe Healthcare, continues its expansion, and is currently comprised of 19 medical specialties in 28 locations throughout southern Delaware, with more than 110 medical providers and more than 175 support staff.
Beebe Medical Group providers comprise the specialties of cardiac surgery, dermatology, endocrinology, family practice, gastroenterology, internal medicine, otolaryngology, pediatric neurology, surgical oncology, and vascular services. Hospital-based providers include: the Hospitalist division and its nurse practitioners; the Observation Unit nurse practitioners; and Dr. Abraham Scheer, the Board-Certified neurologist who oversees Beebe's accredited Stroke Center. Beebe Medical Group also staffs Beebe Walk-In Care locations in Rehoboth Beach, Millville, Millsboro and Georgetown.
Beebe Healthcare is a not-for-profit community healthcare system with a charitable mission to encourage healthy living, prevent illness, and restore optimal health for the people residing, working, or visiting in the communities we serve. It offers services throughout Southern Delaware for residents and visitors, including a 210-licensed-bed hospital, a cancer treatment center, and outpatient facilities providing walk-in care, lab, imaging, and physical rehabilitation services. For more information, please visit us online at Beebe Healthcare.
---