Beebe Medical Group Honors Retiring Cardiothoracic Surgeon M.L. Ray Kuretu, MD
Image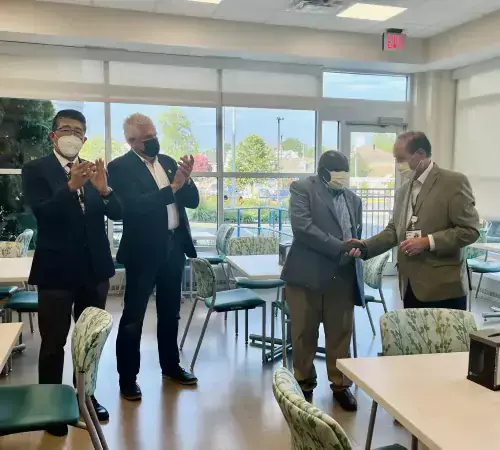 Beebe officials and team members gathered Thursday, Aug. 4, to celebrate the lengthy and accomplished 35-year career of M.L. Ray Kuretu, MD. Since his first year with Beebe in 2012, Dr. Kuretu has continually influenced the open-heart surgery program and helped curate it to what it is today.
"I want to thank Dr. Kuretu on behalf of the Beebe Medical Staff for his dedicated service to our community over the past decade here at Beebe," said Paul Peet, MD, President of Beebe's Medical Staff. I want to acknowledge his many academic and professional contributions as a nationally recognized cardiac surgeon spanning over a 35-year career."
Shown left to right are Dr. David Tam, President & CEO, Beebe Healthcare, Terry Megee, Board Chair, Beebe Board of Directors, Dr. Ray Kuretu, and Dr. Paul Peet. 
---