Beebe, Medical Staff Members Lauded in Annual Delaware Awards
Image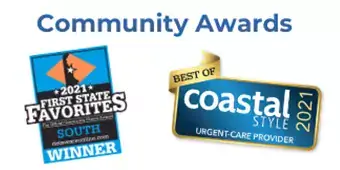 Beebe Healthcare, Beebe Walk-In Care locations, and Beebe Medical Foundation, along with several Beebe Medical Staff members, were honored in two annual community-voted awards contents - the annual Best of Coastal Style and in "First State Favorites," which polls DelawareOnline's readers.
"Beebe Healthcare is working every day to create an integrated healthcare delivery system to provide Sussex County with advanced quality care," says Dr. David A. Tam, MD, MBA, FACHE, President and CEO, Beebe Healthcare. "Doctors from near and far are choosing to work at Beebe Healthcare because they recognize our commitment to excellent care and the transformative work we are doing to support our growing community. Beebe is also proud to continue partnering with our local physician and provider partners in our region who provide outstanding care for the people of Sussex County. Together, we will create the great community health system our families deserve."
Best of Coastal Style 2021 Awards
Beebe Medical Foundation, Best Charity/Nonprofit in Sussex County
"The Beebe Medical Foundation is honored and humbled to receive this award once again. It really is an award recognizing all our strong and loyal donors who are truly 'Beebe Believers' who realize the importance of investing in helping make their local community health care system even greater and stronger." – Tom Protack, President, Beebe Medical Foundation.
Erik Stancofski, MD, Best General Surgeon in Sussex County
Erik Stancofski, MD, is a board certified general surgeon with Beebe Medical Group. He received his medical degree from the American University of Beirut, Lebanon and completed a residency in general surgery at St. Agnes Hospital in Baltimore, Md. Additionally, he earned his Healthcare MBA from George Washington University, in 2008. He practices with Beebe General Surgery in Lewes. He is employed by Beebe Medical Group and is a member of Beebe Healthcare's Medical Staff.
Wilson C. Choy, MD, Healthcare Hero of Sussex County
Wilson C. Choy, MD, is a board certified orthopaedic surgeon. He practices with Premier Bone & Joint with multiple locations in Delaware. Dr. Choy received his medical degree from the SUNY–Health Science Center in Syracuse, N.Y. He completed his residency at the Long Island Jewish Medical Center in New York. He completed a fellowship in Joint Reconstruction at Brigham and Women's Hospital in Boston. He specializes in adult joint reconstruction, arthroscopic knee surgery, and fracture care. He is a member of Beebe Healthcare's Medical Staff.
Carrie Snyder, FNP-BC, Best Nurse in Sussex County
Carrie Snyder, MSN, APRN, FNP-BC, is the Service Line Nurse Navigator with Beebe Healthcare. Carrie started her nursing career as a registered nurse in the Intensive Care Unit at Beebe in 2004 after graduating with her nursing degree from the University of Delaware. She earned her Masters of Science degree in Nursing from Wilmington University in 2008 and was board certified by the American Nurses Credentialing Center (ANCC) as a Family Nurse Practitioner. At that time, she began working as a Family Nurse Practitioner at Beacon Family Practice and Beacon Pediatrics providing primary care for adult and pediatric patients. She returned to Beacon Family Practice with Beebe Medical Group in 2015 after spending time working in Walk-In Care. She has worked as the Family Nurse Practitioner and Coordinator of Laurel High School Wellness Center and served on the action committee for Delaware Adolescent Program, Inc. (DAPI) in Sussex County. She has also served as adjunct faculty at Wilmington University in the Family Nurse Practitioner Program. She is a member of Beebe Healthcare's Medical Staff.
Roman Orsini, DPM, Best Podiatrist in Sussex County
Roman Orsini, DPM, is board certified in podiatry and rear foot and ankle surgery. He received his medical degree from Rosalind University and Chicago University. He completed his residency at West Penn Hospital in Pittsburgh. He received fellowship training at the AO Foundation in Switzerland. He specializes in foot and ankle reconstruction and surgery, foot and ankle trauma, and ankle replacement. He is a member of Beebe Healthcare's Medical Staff.
Beebe Urgent Care, Best Urgent-Care Provider in Sussex County
Beebe Healthcare's vision for Sussex County is to be one of the healthiest counties in the nation. Part of that vision is to make services available to Sussex County residents and visitors when and where they need them.
Beebe Walk-In Care offers four locations to serve our community in Rehoboth, Georgetown, Millsboro, and Millville. Beebe Walk-In Care is open from 9 a.m. to 7 p.m. daily., and offers online scheduling and telehealth options.
Delawareonline.com readers First State Favorites
Favorite Urgent Care/Walk-In Clinic & Hospital in the South Region of Delaware.
New to Sussex County? Check out our welcome and visitor page.
---