Beebe Oncology Services and Hudson Fields Partner Again to Host 18th Annual Miracle Mile and Skin Cancer Screening Event 
Image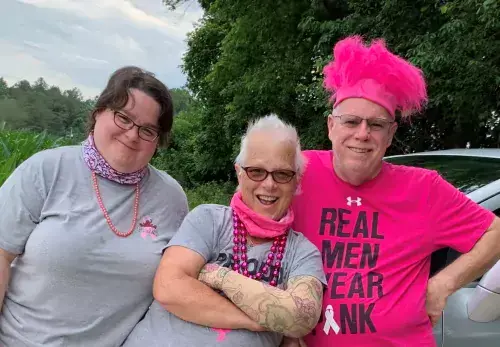 Register online:  https://miraclemile2021.eventbrite.com  
Beebe Oncology Services and Hudson Fields have partnered for the second year to host the 18th Annual Miracle Mile on Saturday, June 5, from 8-11 a.m. 
Last year was the first time the Miracle Mile was held as a drive-thru event due to COVID-19 safety protocols. 
This year, the Miracle Mile will return with new, interactive opportunities for the community. The drive will return, and a new addition will include a Miracle Mile walk, which will be socially distanced. The event will also include a variety of programs, including a free, private, skin cancer screening performed by trained healthcare professionals. 
The event not only celebrates the special connection between cancer survivors and their caregivers, but it provides an opportunity for the community to support Beebe Oncology and their patients through fundraising and donations. This year's contributions will go to supporting the Cancer Patient Special Needs Fund, Survivorship Services, or the Breast Cancer Fund, per the donor's choice. These funds directly assist patients with daily expenses, comprehensive care needs, and diagnosis specific essentials. 
"Miracle Mile is Beebe Oncology's signature cancer survivorship event," said Maurice Winkfield, Executive Director of Oncology Services. "The Miracle Mile celebrates life and inspires our community to support cancer survivors, their caregivers, relatives, and friends. We are excited to join our survivors, their families, friends, and community to embrace our collective strength, solidarity, and resilience during a time when togetherness is of utmost importance."
This year's "Drive the Miracle Mile" will run from 8-9 a.m., and the walk will begin at 9 a.m. The skin screening event will be available to both drivers and walkers, however, you must register in advance. To participate in the walk, drive, or screening, register at https://miraclemile2021.eventbrite.com.  
For those driving or who cannot make the event in person, a Facebook Live will capture key parts of the program. A variety of our community partners and Beebe services will have booths set up along the mile. 
"I got to experience the Miracle Mile for the first time last year, and it was an incredible day of hope and survivorship for all affected by cancer," said David A. Tam, MD, MBA, FACHE, President & CEO, Beebe Healthcare. "I look forward to seeing everyone this year and talking about how Beebe can continue to serve our community by providing the best healthcare to Sussex County."
Caption: Andrea Hanna, center, recently passed away after a courageous battle with breast cancer. She is shown with her daughter, Margaret Cluney, and Andrea's husband, Roger Hanna.
---