Beebe to Plant Pinwheels to Recognize Child Abuse Prevention Month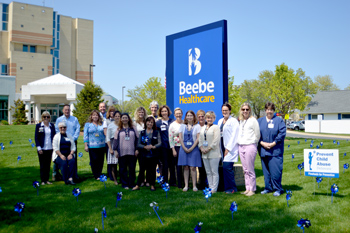 Beebe Healthcare will mark Child Abuse Prevention Month this April by planting pinwheels to symbolize the right of Delaware children to grow up free from abuse and neglect.
Beebe partners with Prevent Child Abuse Delaware (PCAD), which is leading the charge in Delaware with programs, activities, and social media campaigns that help recognize the importance of preventing child abuse.
Beebe will be participating in the Pinwheels for Prevention Program by planting pinwheels at the Medical Center in Lewes and at the Rehoboth Beach Health Campus on Route 24 on Friday, April 13. A rain date is set for the following Friday, April 20.
"Planting pinwheels reminds us of the whimsical nature of childhood and that every child deserves the chance to have a healthy and happy life, free of abuse and neglect," said Marcy Jack, Esq., BSN, CPHRM, Vice President and Chief Quality & Safety Officer for Beebe Healthcare, and Board of Directors member of Prevent Child Abuse Delaware. "Prevent Child Abuse Delaware helps to ensure that prevention of child abuse and neglect is possible through education and empowerment."
PCAD has programs that teach children about personal safety and the difference between good and bad touches as well as what to do if neglect is identified or abuse occurs. PCAD also has programs that teach adults how to prevent, recognize and responsibly react to child abuse.
"Beebe Healthcare's Vision for Sussex County to be one of the healthiest counties in the nation aligns directly with PCAD's goal to be sure every child has a safe and nurturing childhood, free from abuse and neglect," Ms. Jack said. "Planting pinwheel gardens also remind us that child abuse and neglect is real and not to be turned away from or concealed. We must face abuse and neglect head-on and do what needs to be done to protect our vulnerable children."
The Pinwheels for Prevention Program will be implemented throughout the month in all three counties. Pinwheel gardens will be planted in schools, hospitals, organizations, and government agencies using the PCAD pinwheel to represent the shared belief that all children in Delaware have the right to grow up in safe, nurturing homes, free from abuse and neglect.
For additional information on Prevent Child Abuse Delaware or for more on upcoming events, contact Lynn Haggerty Wong, Director of Advancement at [email protected].
Prevent Child Abuse Delaware (PCAD) is a nonprofit organization dedicated to providing leadership for child abuse prevention in Delaware by increasing the community's understanding of the problem of child abuse and its solutions; serving as a resource for individuals, families, and communities; and advocating for expanded and improved policies and programs. Serving Delawareans since 1977, PCAD offers training workshops to schools, foster parents, child care providers, and community groups on how to recognize and react to the signs of child abuse and, most importantly, how to foster an environment focused on the prevention of childhood abuse and neglect.
Beebe Healthcare is a not-for-profit community healthcare system with a charitable mission to encourage healthy living, prevent illness, and restore optimal health for the people who live, work, and visit the communities we serve. The medical center in Lewes is a licensed 210-bed hospital with specialized service lines, including cardiac and vascular, surgical services, medical oncology/hematology and radiation oncology, women's health, and orthopaedic services. Outpatient facilities, conveniently located throughout Sussex County, provide primary care, walk-in care, lab, imaging, and physical rehabilitation services, in addition to Beebe's home care services. For more information on services offered through Beebe, go to www.beebehealthcare.org. To find out how Beebe Healthcare is creating the next generation of care for the community, go to www.nextgenerationofcare.org.
---