Beebe Supports the Milton Lions Club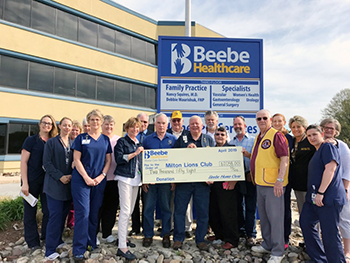 Beebe Home Care team members recently took the initiative upon themselves to raise funds for the Milton Lions Club after the club assisted a patient.
To support the work of the Milton Lions Club, the team members collected donations and recently presented the club with a donation of $2,058.
A patient was referred to Beebe Home Care after a six-month hospital and rehabilitation stay.
In addition to being weak following surgery, he had a hard time getting up the six steps to enter his home. He and his family were concerned for his safety and knew that in order for him to come and go to his many doctor's appointments, a wheelchair ramp or lift would need to be installed at his home. However, finances and time were limited.
His Home Care Services team quickly sprang into action and contacted a great resource they have used in the past – the Milton Lions Club. The club not only provides walkers, wheelchairs, and hospital beds on loan to those in need, they also build ramps. One phone call was made and that day a member of the Lions Club was out to assess the situation.
Three days later a group of volunteers arrived and within hours had installed a lift for the wheelchair. Getting safely out of the home was no longer a problem.
"The team at Beebe Home Care Services would like to extend our warmest thanks and appreciation for the Milton Lions Club and all Lions Clubs for their willingness to help those in need," said Debbie Sheing, MSPT. "Our therapy team has called on them often and they deserve to be recognized and receive donations so they can continue their meaningful work."
The Milton Lions Club was formed to serve people who are less fortunate than we are. There is a unified effort by all of the Lions Clubs to assist and support each other when a project is beyond the scope and ability of an individual club. They operate with all volunteers that are committed to a purpose. This organization also works from donations.
In 1995, Beebe Home Health Care began as a small department in the hospital with a handful of nurses.
Fast forward to 2019 and Beebe Home Care Services employs 97 total employees, including physical therapists, occupational therapists, speech pathologists, nurses, medical social workers, and certified nursing assistants, as well as a strong support staff in the office.
Beebe Home Care provides care to patients in Sussex County who have been recently discharged from a medical facility or who are referred from their physician. Patients who are referred are often unable to safely leave their home whether because of the risk of falls, infection, or another medical reason.
This is where Beebe's therapy team steps in. After careful evaluation of the patient, including a comprehensive home safety assessment, a plan of care is developed. In many cases the environment needs to be adapted and this can be very costly to many patients.
Anyone interested in donating to the Club, can send donations can be sent to: Milton Lions Foundation, P.O. Box #256, Milton, Delaware, 19968.
Beebe Healthcare is a not-for-profit community healthcare system with a charitable mission to encourage healthy living, prevent illness, and restore optimal health for the people who live in, work in, and visit the communities we serve. Beebe Healthcare has three campuses: the Margaret H. Rollins Lewes Campus, which houses the medical center; the Rehoboth Beach Health Campus; and coming in 2020, the South Coastal Health Campus. Beebe Healthcare offers primary care as well as specialized services in the areas of cardiac and vascular, general surgery, robotic surgery, cancer treatment, women's health, and orthopaedics. Beebe also offers walk-in care, lab, imaging and physical rehabilitation services at several locations throughout Sussex County, in addition to a Home Care program and an adult activities center.
For more information about Beebe Healthcare, go to www.beebehealthcare.org. To find out how Beebe Healthcare is Creating the Next Generation of Care for the community, go to www.nextgenerationofcare.org.
Caption: Pictured left to right: Brianne Timmons, RN, Michelle Dennis, RN, Anne Lekites, CNA, Gail Reese, Elaine Ingram, RN, Wendy Mears, OTR, Debbie Sheing, MSPT, Daniel Harper, David Johnson, Mike Mock, James Coverdale, Jerry Hirst, Doris Mock, Mick Olenderski, Jack Bauer, Jessica Hall, RN, Lin Pawlyk, MSW, Audrey Moore, RN, and Dana Warrington, RN.
---