Beebe Wears Blue, Plants Pinwheels for Child Abuse Prevention Month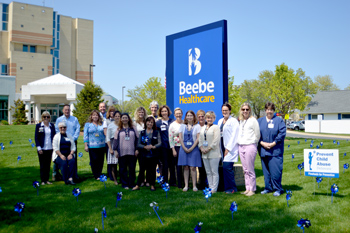 April is Child Abuse Prevention Month throughout the United States.
Prevent Child Abuse Delaware (PCAD) is leading the charge in Delaware with programs, activities, and social media campaigns that help recognize the importance of preventing child abuse from ever happening.
Beebe Healthcare participated in the Pinwheels for Prevention Program by planting pinwheels at the Medical Center in Lewes and at the Rehoboth Beach Health Campus on Route 24 on Thursday, April 20.
"Shining attention on the positivity that pinwheels signify brings awareness that supports Prevent Child Abuse Delaware's Mission to make sure every child has a safe and nurturing childhood, one free of abuse and neglect. PCAD hopes to achieve its mission through increasing resources and training in Sussex County," said Marcy Jack, Esq., BSN, CPHRM, Vice President and Chief Quality Office for Beebe Healthcare, and Board of Directors member of Prevent Child Abuse Delaware.
"Beebe Healthcare's vision for Sussex County to be one of the healthiest counties in the nation aptly aligns with that of PCAD's mission. I believe activities like planting pinwheel gardens helps spread the word throughout our community that prevention of child abuse and neglect is truly possible," Ms. Jack said.
The Pinwheels for Prevention Program will be implemented throughout the month in all three counties. Pinwheel gardens will be planted in schools, hospitals, organizations, and government agencies using the PCAD pinwheel to represent the shared belief that all children in Delaware have the right to grow up in safe, nurturing homes, free from abuse and neglect.
Friday, April 7, was Wear Blue Day, and Beebe Healthcare team members participated throughout the day by showing off blue attire.
For additional information on Prevent Child Abuse Delaware or for more on upcoming events, contact Lynn Haggerty Wong, Director of Advancement at [email protected].
Prevent Child Abuse Delaware (PCAD) is a nonprofit organization dedicated to providing leadership for child abuse prevention in Delaware by increasing the community's understanding of the problem of child abuse and its solutions; serving as a resource for individuals, families, and communities; and advocating for expanded and improved policies and programs. Serving Delawareans since 1977, PCAD offers training workshops to schools, foster parents, child care providers, and community groups on how to recognize and react to the signs of child abuse and, most importantly, how to foster an environment focused on the prevention of childhood abuse and neglect.
Beebe Healthcare is a not-for-profit community healthcare system with a charitable mission to encourage healthy living, prevent illness, and restore optimal health for the people residing, working, or visiting in the communities we serve. It offers services throughout Southern Delaware for residents and visitors, including a 210-licensed-bed hospital, a cancer treatment center, and outpatient facilities providing walk-in care, lab, imaging, and physical rehabilitation services. For more information, please visit us online at www.beebehealthcare.org.
Caption: Shown are Beebe team members who helped plant pinwheels at the Medical Center in Lewes on April 20.
---