Beebe Welcomes Drs. Henry and Lamour to Primary Care Team
Beebe Medical Group welcomes Georgia Henry, DO, and Cynthia Lamour, DO, to its growing team of primary care providers in Sussex County.
Image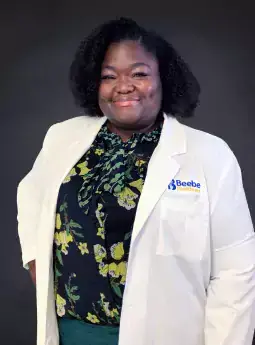 Dr. Henry is accepting patients at Beebe Family Practice Millsboro - Dupont Blvd. Dr. Lamour is seeing patients at Beebe Family Practice - Long Neck. To schedule an appointment with either provider, please call 302-645-3332.
"Beebe is creating a great community health system for Sussex County. This means building an integrated healthcare delivery system with services ranging from primary care to specialists so that your needs can be addressed right here in Sussex County," said David A. Tam, MD, MBA, FACHE, President & CEO, Beebe Healthcare. "Please help me welcome Drs. Henry and Lamour to Team Beebe."
Dr. Henry received her medical degree from Philadelphia College of Osteopathic Medicine. She completed her residency training in family medicine at Suburban Community Hospital in Norristown, Pa. She previously worked as an urgent care physician with Patient First Urgent Care, also in Norristown. Dr. Henry has worked as an epidemiologist and public health data analyst for both state and federal public health entities.
The diverse patient population in Sussex County, the need for primary care, and the growth of the community in the last five years is what brought Dr. Henry to Beebe and Sussex County.
"The cultural, ethnic and socioeconomic diversity of Sussex County will allow me to practice rural community medicine, which was my dream when I started medical school," she said. "Beebe Healthcare is special in that it shares a mutual respect with the community. The trust that the community has in Beebe is remarkable and speaks to the many years of quality healthcare that this organization has provided to the residents of Sussex County. My aim is to provide quality, culturally competent primary care to all my patients. I hope to improve health outcomes in Sussex County one patient at a time by treating every patient with compassion and respect and remembering that patients are people."
Dr. Cynthia Lamour received her medical degree from Rowan University School of Osteopathic Medicine. She completed her residency in family medicine at Mount Sinai South Nassau. She previously worked as a primary care provider at Mount Sinai South Nassau Primary Medical Care in New York. She is seeing patients at Beebe Family Practice - Long Neck.
Image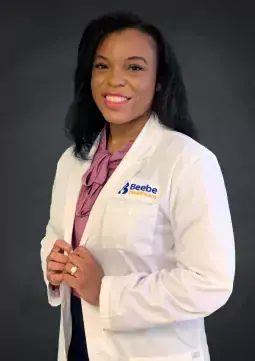 "I love family medicine because you are able to treat a wide variety of medical conditions for a diverse set of patients," Dr. Lamour said. "It's important to serve the community's health and wellness needs and for those who live here to have access to that care. I'm really excited to help Beebe achieve that goal and care for patients here in Sussex County."
Drs. Henry and Lamour are two of more than 60 new providers in the last year who have joined Beebe Medical Group, which includes 20-plus specialty offices in more than 40 office locations throughout Sussex County.
When patients see providers that are within the Beebe Medical Group, they enjoy the experience of seamless electronic medical correspondence between office visits, outpatient facilities and the hospital.
Practices include the specialties of: Cardiothoracic Surgery, Dermatology, Endocrinology, Family Medicine, Gastroenterology, General and Bariatric Surgery, Hospital Medicine, Infectious Diseases and Travel Medicine, Internal Medicine, Pediatric Neurology, Pulmonary & Sleep Disorders, Surgical Oncology, Urology, and Women's Healthcare.
Four Walk-in Care centers serve the community in Rehoboth Beach, Georgetown, Millsboro, and Millville from 9 a.m. to 7 p.m. daily. The group also operates three school-based health centers at Cape Henlopen High School, Sussex Central, and Indian River High School.
Learn more about Beebe providers: www.beebehealthcare.org/doctors.
---