Beebe Welcomes Infectious Disease Physician L. J. Romel Crèvecoeur, MD
Image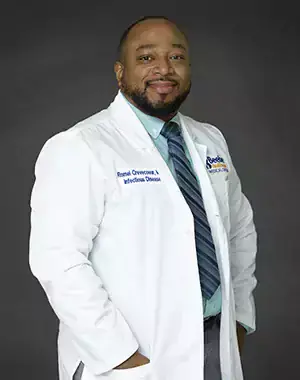 Beebe Medical Group welcomes L. J. Romel Crèvecoeur, MD, to its Infectious Disease and Travel Medicine team.
Dr. Crèvecoeur, will see patients at Beebe Infectious Disease at 1535 Savannah Road as well as inpatients at the Margaret H. Rollins Lewes Campus.
"We know the importance of infectious disease experts because of the COVID-19 pandemic," said Stephen Keiser, Chief Administrative Office, Beebe Medical Group.
"Dr. Crèvecoeur joins Beebe's stellar team of Drs. Chasanov and Olewiler to care of the Sussex County community."
After receiving his medical degree at the State University Medical School in Haiti, he completed his Internal Medicine residency at the Wright Center for Graduate Medical Education affiliated to Geisinger CMC in Scranton, Pa. He then completed his infectious disease fellowship at Drexel University's Hahnemann University Hospital in Philadelphia.
Dr. Crèvecoeur, has been published in a peer review journal and has been a part of multiple research studies regarding infectious diseases. He is a member of the Infectious Disease of America (IDSA).  Prior to joining Beebe, Dr. Crèvecoeur, worked at Tidal Health Nanticoke.
"I am thrilled to join Beebe and be part of a dedicated team well known for its pursuit of excellence in the medical field here Sussex County," Dr. Crèvecoeur said. "I am very enthusiastic about Infectious Disease and contributing to the ongoing effort to keep our community safe."
He is fluent in English and Spanish, as well as French and Haitian Creole, which are his native languages. He is employed by Beebe Medical Group and is a member of Beebe Healthcare's Medical Staff.
Dr. Crèvecoeur, joins Beebe Medical Group, which includes 20-plus specialty offices in more than 40 office locations throughout Sussex County. When patients see providers that are within the Beebe Medical Group, they enjoy the experience of seamless electronic medical correspondence between office visits, outpatient facilities and the hospital.
Practices include the specialties of: Cardiothoracic Surgery, Dermatology, Endocrinology, Family Medicine, Gastroenterology, General and Bariatric Surgery, Hospital Medicine, Infectious Diseases and Travel Medicine, Internal Medicine, Pediatric Neurology, Pulmonary & Sleep Disorders, Surgical Oncology, Urology, and Women's Healthcare.
Four Walk-In Care Centers serve the community in Rehoboth Beach, Georgetown, Millsboro, and Millville from 9 a.m. to 7 p.m. daily. The group also operates three school-based health centers at Cape Henlopen High School, Sussex Central, and Indian River High School.
---