Beebe's Cardiology Team Achieves Clinical Milestone with Completion of 100th TAVR Procedure
Image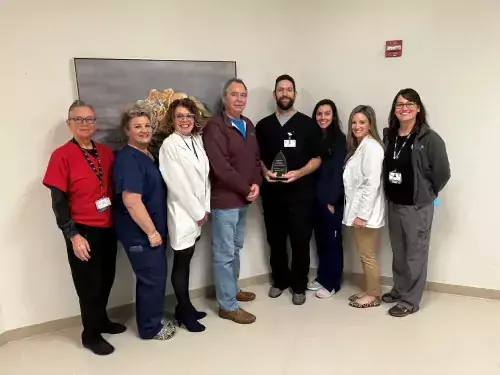 Beebe Healthcare's Cardiovascular team recently marked a key milestone with completion of its 100th Transcatheter Aortic Valve Replacement (TAVR) procedure.
This minimally invasive technique for heart valve replacement is performed using a small incision in the groin area, as opposed to a large, open incision across the chest. Using a remarkably thin catheter, interventional cardiologists then route and place a new aortic valve in the patient's heart. This new valve replaces the original, diseased valve, and is capable of immediately regulating blood flow in and out of the heart. TAVR is recognized as a good option for many patients diagnosed with aortic stenosis – from mild to the most severe cases.
"TAVR is an innovative approach to heart valve replacement that allows us to provide lifesaving care to patients in a way that is simple and quick, results in minimal blood loss, and doesn't require much recovery time," said Thomas Trobiano, DNP, FNP-C, MAPC, Executive Director of Beebe Healthcare's Cardiovascular and Neurosciences services.
"In many ways it has simplified the treatment of complex heart issues, which previously required major, open heart surgery. Through the use of this technology, we are delivering higher quality, safer, more effective care for our patients."
This clinical milestone demonstrates and underscores Beebe's commitment to delivering innovative and state-of-the-art medical care for its patients in Sussex County. Its Cardiovascular services are led by a team of skilled and experienced heart specialists who leverage the latest, most innovative technologies, and who apply research and evidence-based practices in their day-to-day interactions.
Application of the most advanced approaches to heart care, including use of TAVR in the operating room, has earned Beebe national recognition as a premier Cardiology provider. In 2022, the healthcare system earned four Get with the Guidelines® awards from the American Heart Association. These awards recognize that Beebe consistently achieves key quality indicators, which impact and improve patient survival rates.
"We are fortunate to have a team of leaders and providers who are truly committed to working together to do what is best for our patients," said David A. Tam, MD, MBA, CPHE, FACHE, President & CEO, Beebe Healthcare. "Holistic, patient-centric care is at the heart of everything we do as we grow our interventional cardiology, structural heart, cardiothoracic surgery, and general cardiology programs in line with what the people of Sussex County need."
Captions:  The TAVR clinical team, from left to right, Denise Pecora, APRN, Lori Kline, RN, Donna Fleitz, RN, Curtis Trapp, RN, Brian Hennelly, Echo Tech, Chelsea White, RN, Tracy Belcher, RN, Annie Villalobos, APRN
---