Big Fish Foundation donates $10,000 to Women's and Children's Department at Beebe Healthcare
The Big Fish Foundation recently donated $10,000 to Beebe Healthcare for the purchase of new equipment that will help newborn babies with jaundice, and financially struggling families with the safest car seats for travel. The items being purchased are BiliBlankets, which provide phototherapy for newborn babies, and specially designed car seats.
"The new BiliBlanket and light is a less invasive approach to treating babies suffering from jaundice rather than total isolation from their mother," said Bridget Buckaloo, MSN, RNC-OB, Executive Director of Women's and Children's, when she accepted the donation. "The BiliBlanket allows treatment and still allows the mother and caregivers to hold the baby."
Bridget added, "Families that are financially struggling often do not have car seats for newborns or have old outdated ones that are not up to safety standards. We will be able to provide them with the new safety seats for their Beebe babies."
Eric Sugrue, owner of Big Fish and member of the Beebe Healthcare Board of Directors, said, "This is our 20th anniversary in business and we want to reach out and support Beebe, our local non-profit, community healthcare system. We want to give where we live and support Beebe and its continued growth and needs, especially as they care for our babies and children."
Every year, Beebe delivers approximately 900 babies. As Beebe looks forward to future expansion, it plans to dedicate a floor of the new wing to Women's and Children's Health. Judy L. Aliquo, President and CEO of Beebe Medical Foundation, shared, "Beebe is so grateful to our local business who choose to support us. More than ever, we will need the support of the entire community to meet the growing needs of healthcare of everyone living and visiting in Sussex County. We are grateful to Eric Sugrue and the Big Fish Foundation for choosing to support us. Their gift will make a great impact for our new Beebe babies and their families."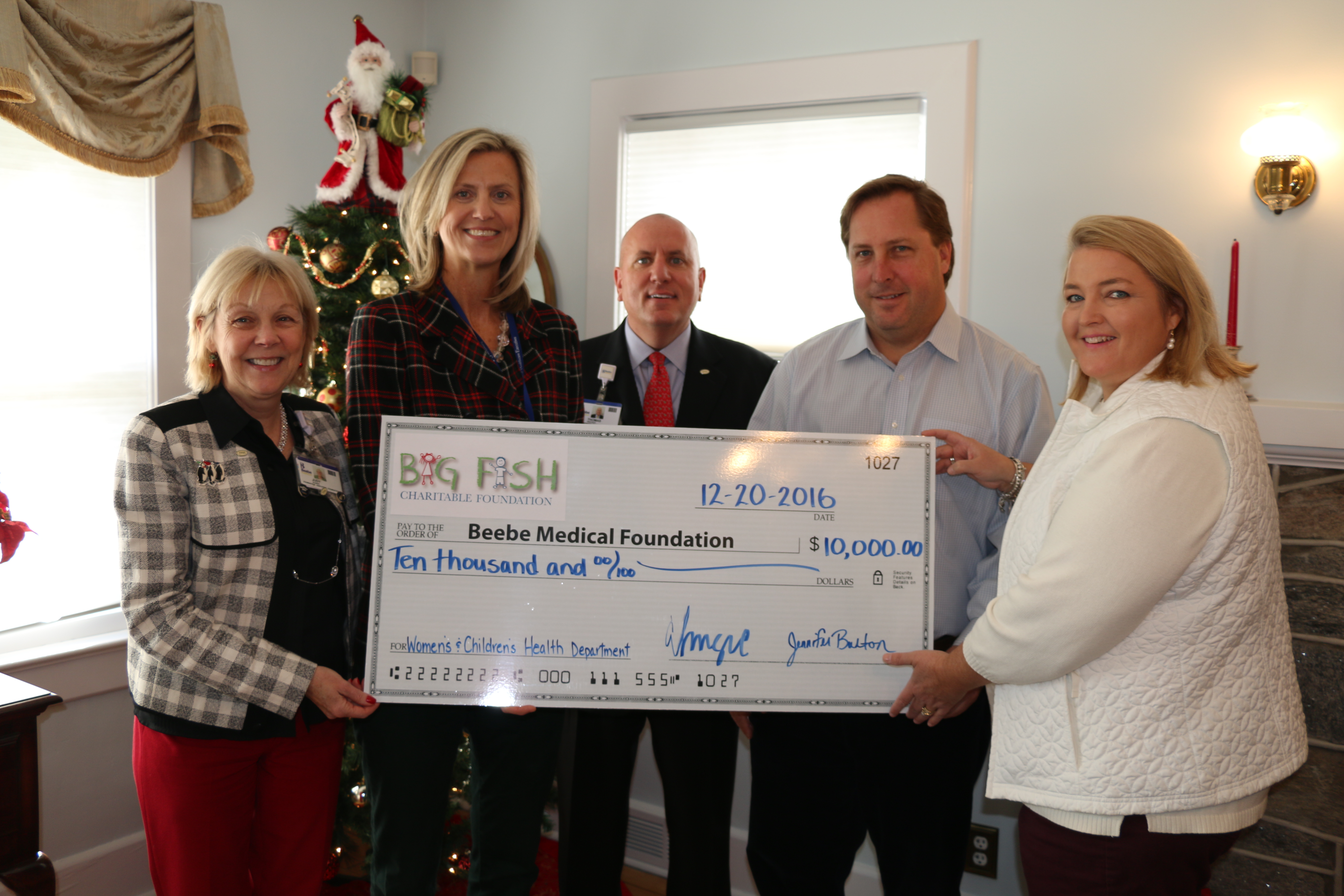 Caption: Pictured here, left to right, are: Judy L. Aliquo, President and CEO of Beebe Medical Foundation; Bridge Buckaloo, MSN, RNC-OB, Executive Director of Women's and Children's Health at Beebe Healthcare; Thomas J. Protack, Vice President of Development at Beebe Medical Foundation; Eric Sugrue, owner of Big Fish Grill; and Jennifer Burton with the Big Fish Foundation.
Beebe Healthcare is a not-for-profit community healthcare system with a charitable mission to encourage healthy living, prevent illness, and restore optimal health for the people residing, working, or visiting in the communities we serve. It offers services throughout Southern Delaware for residents and visitors, including a 210-licensed-bed hospital, a cancer treatment center, and outpatient facilities providing walk-in care, lab, imaging, and physical rehabilitation services. For more information, please visit us online at Beebe Healthcare.
---