Cardiothoracic Surgeon Kurt Wehberg, MD, Joins Beebe Healthcare
Dr. Wehberg to develop and lead Beebe's Center for Robotic Surgery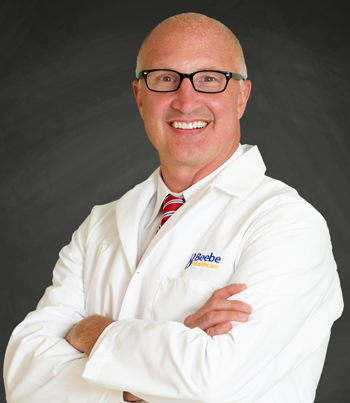 Kurt E. Wehberg, MD, a board-certified and fellowship-trained cardiothoracic surgeon, joined Beebe Healthcare in 2018 as Co-Chief of Cardiothoracic Surgery, the Chief of Robotics, and Vice President of Clinical Innovation. Dr. Wehberg will lead Beebe Healthcare's Center for Robotic Surgery.
"Dr. Wehberg has chosen to bring his clinical skills and leadership abilities to our organization," said Jeffrey M. Fried, FACHE, President and CEO, Beebe Healthcare. "His outstanding track record in cardiac and robotically assisted surgery will help to strengthen both our clinical programs and multidisciplinary teams, and will support our physicians and patients who rely on Beebe Healthcare for their medical needs."
Dr. Wehberg received his medical degree from Eastern Virginia Medical School in Norfolk, Va., and completed his residency in General Surgery at University of Maryland Medical System. He earned a fellowship in Cardiothoracic Surgery from University of Maryland Medical System. Dr. Wehberg is certified by the American Board of Surgery and the American Board of Thoracic Surgery.
"Dr. Wehberg and the team here at Beebe continue to develop our Cardiac and Vascular Center of Excellence," said Rick Schaffner, Executive Vice President and COO, Beebe Healthcare. "Dr. Wehberg's extensive background in cardiac and thoracic surgery, particularly with his emphasis on robotics, will bring new services and technologies to Beebe Healthcare. As a national leader in robotic surgery, his role in the development of Beebe's Center for Robotic Surgery program will be critical."
Beebe has installed the da Vinci Xi Surgical System. Robotically assisted surgery has many advantages for appropriate patients, including smaller incisions and reduced recovery times. In addition to robotically assisted surgeries, Dr. Wehberg will also be performing traditional cardiac surgery with the Beebe Cardiothoracic Surgery team.
New Opportunities
"The field of surgery is being transformed by robotic-assisted innovations," says Dr. Wehberg. "Nearly 90 percent of all patients undergoing thoracic surgery are candidates for robotically assisted techniques. The benefits of robotic surgery are truly revolutionary. For the patient, there are less complications, quicker recovery, less pain, and markedly improved satisfaction. For the surgeon, it is absolutely a more advanced operation with improved results. For the hospital, robotics offer a very economically efficient model of healthcare delivery. Robotic surgery is paramount in healthcare institutions so that patients don't have to travel far to obtain the most advanced type of surgery."
Previous to Beebe, Dr. Wehberg served as the Medical Director of the Thoracic Oncology Program, the Chief of Cardiothoracic Surgery and Director of Robotic Cardiothoracic Surgery at Peninsula Regional Medical Center in Salisbury, Md. He was a founder of both the Thoracic Oncology and Robotic Cardiothoracic Surgery programs and led all three programs to national recognition.
Dr. Wehberg was one of the original founders of the MCSQI (Maryland Cardiac Surgery Quality Initiative), and helped lead as Chairman of the Board of Directors during its developmental years. His term as Chairman ended January 1, 2018. The mission which Dr. Wehberg helped develop for the MCSQI was a state wide team collaboration and sharing of outcomes data and research to help foster positive relations amongst all teams. This team collaboration model led to improved quality of care for tens of thousands of cardiac surgery patients in Maryland, and now is one of the leading models of improved quality of care in the nation.
"Over the last few years, Beebe's cardiac services have grown substantially in volume and complexity to attract skilled and motivated cardiologists and surgeons who want to practice in our area," said George Dahr, MD, Chair of the Cardiology department at Beebe Healthcare. "Dr. Wehberg is no stranger to the local cardiology community. He is well known and respected among our cardiologists. This step will boost our surgical program. We are certain that Dr. Wehberg will be a good addition to our team of cardiologists, surgeons, and cardiac nurses by providing a comprehensive approach and treatment to our patients."
When speaking about why he chose to practice at Beebe, Dr. Wehberg mentioned the "very positive" transformation Beebe is undergoing in its healthcare delivery. He cited the multidisciplinary team approach to patient care, state-of-the-art technological advancements, and being on the forefront of clinical innovation as being main drivers behind his decision.
"Beebe has extraordinary energy," Dr. Wehberg said. "I am very excited to roll up my sleeves and be a part of leading this very positive movement."
---