Charles Burton Supports Beebe's South Coastal Health Campus by Sponsoring Art
Image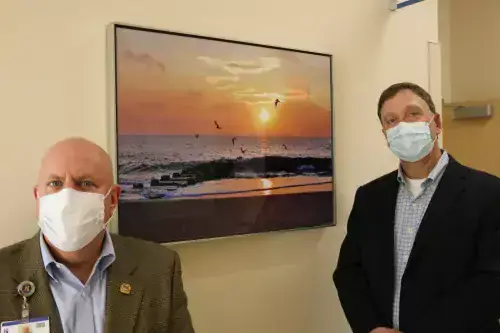 Charles Burton and i.g. Burton & Company continue to support Beebe Healthcare through two generous sponsorships of art at Beebe's new South Coastal Health Campus near Millville.
"From everyone at Beebe, we extend our heartfelt gratitude to Charles for his loyal and generous support of Beebe," said Tom Protack, President, Beebe Medical Foundation.
Earlier this spring, President Tom Protack provided Burton with a comprehensive tour of the new Emergency Department and Cancer Center on Route 17 near Millville.
During the tour, Burton commented, "I am so very impressed with what Beebe has built! This is a beautiful, state-of-the-art healthcare facility – ready to provide great care, close to home for all of our friends and neighbors in the southern part of Sussex County. It is just what our community needed, and I am happy to support Beebe's South Coastal Emergency Department and Cancer Center by sponsoring art.
"I think art brings a calm and peaceful presence and it will certainly help relieve anxiety and promote healing in this new facility. It definitely adds even more beauty. I am happy to support the arts, especially when sometimes it is the first thing that gets cut when institutions look at budgets. I am glad Beebe has made original artwork a part of their overall plans."
Burton selected two breathtaking pieces; in the Emergency Department, "Orange Sky by Shannon Shelby" and in the Cancer Center, "Rehoboth at Sunrise by Red Moulinier," pictured. Custom plaques distinguish each piece as, "Sponsored by i.g. Burton & Co."
"My family and my employees rely on Beebe Healthcare all the time when we need care," said Burton, who is also a member of the Beebe Medical Foundation Board of Directors. "I know the investments made by generous businesses and individuals in the community help Beebe to grow and build new facilities like this one. I am honored to support Beebe's South Coastal Health Campus and encourage others to do the same. I recently opened up new dealerships in Berlin and know that many of our i.g. Burton customers come from this south coastal community." 
As a community based, not-for-profit healthcare system, Beebe Healthcare relies on the generous support of the community. Click to learn more about Art Sponsorships at Beebe's South Coastal Health Campus, or call the Beebe Medical Foundation at 302-644-2900.
---