Cocktails Curing Cancer Raises $10,000 for Beebe Healthcare's Proposed Cancer Center in Millville
The annual Cocktails Curing Cancer party held Thursday, September 28, 2017 at the Big Fish Grill in Ocean View met their goal of raising $10,000 for Beebe Healthcare's proposed Cancer Center in Millville.
The event brought together guests who enjoyed appetizers, cocktails, auctions, live music by The Stims, a photo area and a special message/memory board. Guests donned ribbons that represented the type of cancer that they have been touched by, either directly or through a friend or loved one.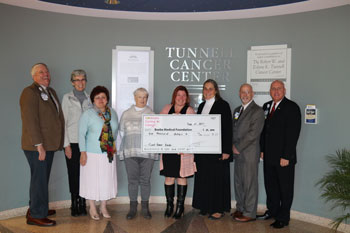 Major sponsors included Heather's Homeworks and Steen's Beach Service.
"The Board of Cocktails Curing Cancer was proud to present a check for $10,000 to Beebe Healthcare's Tunnell Cancer Center. To date, Cocktails Curing Cancer has donated over $17,000 to this amazing organization. Their staff dedicates their lives to the mission we drive, which is supporting those battling cancer and providing support to their caregivers. We are grateful that our Board Member Eternal, Nancy Hoeflich was able to join us for the check presentation before her passing. She was passionate about fighting cancer and played a critical role in raising funds," said Lisa Condon, Board President, Cocktails Curing Cancer.
Cocktails Curing Cancer began in Vermont in 2008 as a not-for-profit whose mission is to help fight against cancer "one cocktail at a time." When Condon moved to Delaware several years ago, she was moved by the mission of Beebe Healthcare's Tunnell Cancer Center to find a cure, as well as to provide hope for patients, families, and caregivers. Having lost her own mother to lung cancer in 2007 and her father to mesothelioma in 2013, Condon has said she's passionate about the cause. Although the event is, at first glance, a cocktail party, it's also a time of support for people who have been impacted by all types of cancer.
"Beebe is so grateful to the local board of Cocktails Curing Cancer for choosing to support our local not-for-profit cancer center," shared Thomas J. Protack, Vice President of Development for Beebe Medical Foundation. "The excitement is growing in the Millville and Bethany areas as Beebe plans to build both an Emergency Department and Cancer Center. Our partnership with Lisa and her great team of volunteers continues to raise both awareness and needed funds to meet the demands of the continued growth in the South Coastal region of Sussex County. Beebe is creating the next century of care, and we are looking forward to partnering with local organizations to help us raise the funds for this historic building and services expansion plan," shared Protack.
To learn more information about Cocktails Curing Cancer and their future local event fundraisers, visit www.cocktailscuringcancer.com. If you or your organization would like to learn how you can choose Beebe's Tunnell Cancer Center as the beneficiary of your event, please contact the Beebe Medical Foundation at (302) 644-2900 or Beebe Medical Foundation.
Photo Caption: (Shown left to right) David Szumski, Gift Planning Officer, Beebe Medical Foundation; Diane Barlow, Gift Planning Officer, Beebe Medical Foundation; Carmen Pisc, MD, Tunnell Cancer Center; Nancy Hoeflich, Cocktails Curing Cancer Board Member Eternal; Lisa Condon, founder of Cocktails Curing Cancer; Christine Bohner, Cocktails Curing Cancer Board Member; Barry Hamp, Executive Director, Tunnell Cancer Center; and Thomas J. Protack, Vice President of Development, Beebe Medical Foundation.
Beebe Healthcare is a not-for-profit community healthcare system with a charitable mission to encourage healthy living, prevent illness, and restore optimal health for the people who live, work, and visit the communities we serve. The medical center in Lewes is a licensed 210-bed hospital with specialized service lines, including cardiac and vascular, surgical services, medical and radiation oncology, women's health, and orthopaedic services. Outpatient facilities, conveniently located throughout Sussex County, provide primary care, walk-in care, lab, imaging, and physical rehabilitation services, in addition to Beebe's home care services. For more information on services offered through Beebe, go to Beebe Healthcare. To find out how Beebe Healthcare is creating the next generation of care for the community, go to Next Generation of Care.
The Robert & Eolyne Tunnell Cancer Center at Beebe Healthcare was established in 1995. It has received the Commission on Cancer's highest accreditation with commendation as a comprehensive community cancer treatment center. Its clinical specialties are medical oncology/hematology and radiation oncology. It also offers a multidisciplinary approach for planning all cancer treatment. Nearly 200 patients visit the center each day.
---