Cody Thomas Pershing is The First 2012 Beebe Baby – Born January 2, 2012
January 3, 2012
Cody Thomas Pershing, weighing 7 lbs, 3 oz, was born at Beebe Medical Center at 5:10 a.m., Monday morning, January 2 -- establishing him as the first Beebe Baby for the year 2012. His parents, Ocean View residents Shannon Pershing and Kevin Kovash, were thrilled, noting that their 18-month-old son Cage was waiting anxiously at home for his new brother.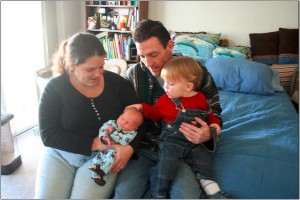 Shannon Pershing and Kevin Kovach of Ocean View are shown here with their baby boy Cody, the first baby born at Beebe Medical Center in 2012, and their gift basket.
Since Cody was the first baby to be born at Beebe Medical Center in 2012, he and mom received a gift basket from the Women's Health Pavilion. The basket was presented by Danielle Felty, RN, BSN, nurse manager. It included a collection of items that the department staff purchased, as well as a $100 gift certificate from the Beebe Medical Center Auxiliary and gift certificates from Walmart and Kids Ketch children's store on Second Street in Lewes.
"We have a long-standing tradition of supporting mothers and babies," says Michael Clemmer, president of the Auxiliary, which celebrated its 75th anniversary in 2011.
Beebe Medical Center is a not-for-profit community medical center with a charitable mission to encourage healthy living, prevent illness, and restore optimal health with the people residing, working, or visiting in the communities we serve. For more information, please visit us online at www.beebemed.org
---