COVID Curves Quilt Donated to Beebe Healthcare by Delaware Modern Quilt Guild
Image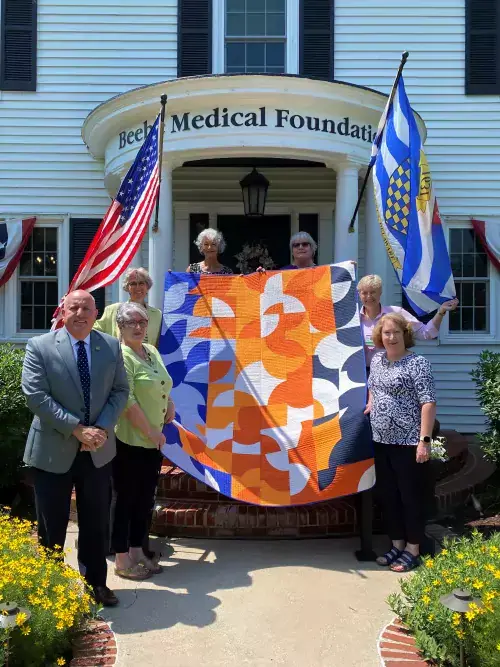 The local Delaware Modern Quilt Guild (DEMQG) donated their 2020 Community Outreach Challenge quilt named "COVID Curves" to Beebe Healthcare.
"Our members are all local residents who want to express our deep gratitude for the steadfast presence of Beebe Healthcare, our community-based, independent, non-profit healthcare system, during this global pandemic and beyond," said quilter and DEMQG member Pam Smith.
This year's Modern Quilt Guild (MQG) Show, QuiltCon Together 2021, was a virtual event held in February. The MQG believes in philanthropy and building and supporting individuals and communities through modern quilting. As such, submissions for their Community Outreach Quilt Challenge were requested. The theme for this year was curves and had a specific color palette.
The DEMQG is a local branch of the MQG whose members wanted to participate in the MQG 2021 Community Outreach Quilt Challenge. Faced with a pandemic, DEMQG members organized, planned, designed, communicated, cut, sewed, and chronicled Delaware COVID-19 data from March 28 through June 15, 2020. All of this was articulated in fabric and thread using artistic expression that translated into the "COVID Curves" quilt which was shown at QuiltCon Together.
Members, Debbie Iammatteo and Joan Flanigan-Clarke were the co-leaders of this Challenge. During a quilt retreat, members had been introduced to the "Quick Curve Ruler" by Sew Kind of Wonderful. This was the ruler used to make the quilt. Thirteen members joined Debbie and Joan, learning to navigate Zoom together while maintaining safe meetings: Kathleen Burke, Janet Denson, Joan Flanigan-Clark, Stacy Hennigan, Judy Iaquinto, Heidi Kuchta, Barbara Lee, Mary Lu Pool, Jennifer Price, Mary Reddington, Mary Shepherd. Melissa Sopko, and Jane Stokes.
"Our group decided the theme would be COVID-19 since many of us had already been affected in one way or another. We worked with statistics and figured out a formula to turn this information into a readable quilt similar to a temperature quilt. We conducted weekly zoom meetings, which really helped us get to know each other. It was exciting to watch the quilt come together from the first step to the next and finally to registering and submitting it. We all were thrilled to learn that our quilt had been accepted into the show. We thank Beebe Medical Foundation for giving us this opportunity to donate our quilt!" said Debbie Iammatteo.
"We are grateful to all of the loving hands who designed and created this beautiful piece of artwork. This quilt speaks to the dedication of our frontline heroes and the incredible bond that has woven this community together over the past 15 months. We will display this proudly for the entire community to enjoy and remember this unforgettable milestone in our lives," shared Kay Young, Executive Director of Development of the Beebe Medical Foundation.
Caption: President of Beebe Medical Foundation, Tom Protack, Executive Director of Development Kay Young, and Gift Officer Diane Barlow receive the "COVID Curves" quilt from Joan Flanigan-Clarke, Debbie Iammatteo, Mary Shepherd, and Janet Denson.
---