Donations Provide Transportation Vans for Beebe Oncology Patients  
Image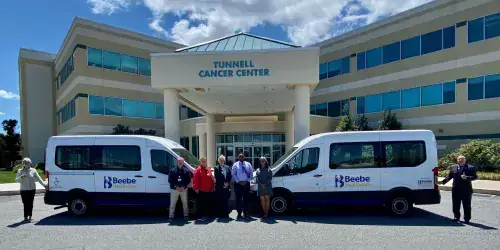 Many roadblocks occur during cancer treatment, but transportation should not be one of them.
Beebe Healthcare's Oncology Services recognizes that people experiencing cancer have so many more needs than just treating the cancer itself, which is why the oncology care team prioritizes whole person care. Treatment for cancer is often complex and managing all the different aspects can be stressful. The whole person care approach extends beyond the standard treatments of surgery, radiation, and chemotherapy, offering support to alleviate such stressors as transportation to and from treatment for those patients unable to provide it for themselves.
With a team of seven drivers, the oncology service line has provided over 14,000 rides since 2018 for Tunnell Cancer Center and now, the newly opened South Coastal Cancer Center.
Paula Twigg, Don Weaver, Don Baird, Arthur Sutton, Paul Taylor, Ron Chorman, and Evette White are always ready to greet patients with a smile and make their ride as pleasant as possible, even in the midst of summer traffic.
With that number of rides, wear and tear on the transport vans is inevitable, and they need to be replaced every few years. Through generous community donations, the vans are kept in top condition and replaced when necessary. The Jean & Joan Cancer Fund has provided support for the purchase of several vans over the years. The fund, now celebrating its 22nd year, raises money through its annual golf and pickleball tournaments held in September at Kings Creek Country Club. Donations to Oncology Services at Beebe Medical Foundation have also helped fund a new van.
"The generosity of our community overwhelms me, and it's truly amazing what we can accomplish when we work together to serve our patients in their time of need," said Maurice Winkfield, Executive Director of Beebe Healthcare's Oncology Services. "No one should have to compromise their health and safety because they have no means of transportation. We want to ensure that all of our patients receive the best possible care."
"I am very grateful to all those who have strongly supported the Jean & Joan Cancer Fund and our oncology services to enable us to offer these complimentary transportation services. We are one of the very few cancer centers that offer this service to our patients and we have our loyal donors to thank for it!" shared Tom Protack, President of Beebe Medical Foundation.
Beebe Healthcare Oncology offers transportation to those who meet specific qualifications and are currently in active treatment with a physician in Beebe's Oncology program. For more information regarding transportation services, scheduling, and eligibility, please call 302-645-3770.
Photo: Beebe Medical Foundation Gift Officer Diane Barlow and President Tom Protack recognize vans provided by funds from the Jean & Joan Tournament and Beebe Medical Foundation. Van drivers Paul Taylor and Paula Twigg are at center with Foundation Executive Director of Development Kay Young, Oncology Services Executive Director Maurice Winkfield, and Manager of Psychosocial Services Rita Williams.
---