Draper Holdings Charitable Foundation Donates $200,000 in Memory of Thomas Draper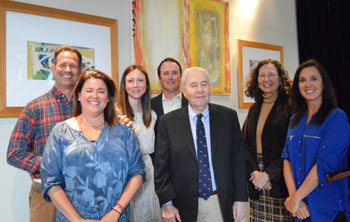 Beebe Medical Foundation is proud to announce a $200,000 donation was made in memory of Tom Draper by Draper Holdings Charitable Foundation and in recognition of Dr. Mayer Katz, who retired in April after decades of serving his country and community as a vascular surgeon.
Beebe Medical Foundation hosted the Draper Family and Beebe Vascular Surgeon Dr. Mayer Katz, along with family, friends, and Beebe Team Members on Monday, April 23, at Fish On in Lewes to celebrate a generous gift.
The donation celebrates the life of Mr. Draper and honors of the valuable contributions Dr. Mayer Katz has made to Beebe and the community. Thanks to the Draper Family, the Vascular Lab at Beebe Healthcare will be named in memory of Thomas H. Draper and in recognition of Mayer Katz, MD.
Tom Draper: Broadcasting Man. Family Man
Thomas Henry Draper was born on Aug. 18, 1941, in Media, Pa., son of the late William Reed and Ruth Kelley Draper. He was raised in Milford, Del. and spent his summers in Slaughter Beach, but his schooling took him to Mount Hermon School in Gill, Mass., and ultimately to Brown University in Providence, Rhode Island. Tom excelled on the lacrosse field (a sport that he had only picked up upon entering college), was captain of the 1964 Brown team and named All-American that same year. His talents earned him a place in Brown University's Athletic Hall of Fame.
After graduating from college, Tom moved back home to Sussex County and bought a radio station. It became WTHD - his initials as its call letters. Five years later he signed on with WAFL-FM in Milford.
His broadcasting career took a big turn in the late 1970s when the A. S. Abel Company – the then-owner of WBOC – put the station up for sale. Outbid twice but undaunted, Tom and his group of investors made a third and successful bid for WBOC-TV and its two radio stations.
Under Tom's leadership, WBOC grew by leaps and bounds. In 2003, WBOC launched a second station, UPN21, which would eventually become FOX21. It was a $13 million investment that took WBOC to the next level. And in late 2015, Tom and WBOC returned to their radio roots with the launch of 50,000-watt WBOC 102.5 FM.
At the time of his death, Tom was poised to announce the launch of Delmarva's newest television station, Telemundo Delmarva. On Sept. 3, 2017, Tom celebrated 50 years in broadcasting.
Tom's deepest love, however, belonged to his family and friends. He travelled with his partner Francesca, spending time with his grandchildren and visiting friends both near and far.
Friends and family all agree that Mr. Thomas Henry Draper was an extraordinary man. He had a profound impact on many people, including on Dr. Mayer Katz, his personal physician.
A Lasting Friendship
Meeting Dr. Katz, initially as his patient, the two men soon discovered a true friendship and a profound respect for each other. The care that Dr. Katz provided to Tom was as extraordinary as their bond as friends and the Draper Holdings Charitable Foundation, Inc. is pleased that their gift in Tom's memory will both honor Dr. Mayer Katz, MD, and will endure forever as part of the legacy of Tom and his family.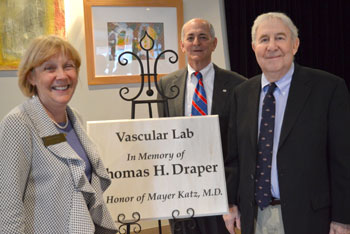 "What a wonderful event to celebrate two great men! Beebe is so honored to receive the generous support of the Draper family and to have our vascular lab in memory of Tom," said Judy Aliquo, President & CEO, Beebe Medical Foundation. "Dr. Katz has given 28 years of extraordinary service to Beebe – truly saving and changing thousands of lives."
Mariah Calagione, daughter of Tom Draper, spoke on the family's behalf. "My dad was in Beebe fairly often and he wasn't always just telling everyone the stories of his family – which I agree he did all the time. But, every single time he was in the hospital and every time we would walk in the door, he would tell us the entire life story of every single nurse, every attendant, everyone he met at the hospital," Mariah said. "He was definitely one that liked to make connections. Dr. Katz was one of those people that dad often told us about. My dad valued not only Dr. Katz's medical help, but also his friendship."
It was that friendship that compelled the Draper family to want to make the donation to Beebe's vascular program.
"As Dr. Katz enters his retirement, it is appropriate to look back on his outstanding career. It is sad for us to say goodbye to him as a doctor, but we wish him the best for the future and we hope he will still be around to help us here at Beebe," said Jeffrey M. Fried, FACHE, President & CEO, Beebe Healthcare. "Dr. Katz has been an incredible patient advocate. He is a remarkable individual and we are proud to be able to recognize him while receiving this very generous gift from the Draper family."
"It's nice that Tom's name and my name are together on this plaque because we enjoyed each other and we both liked to talk about our families," said Dr. Katz. "It's been 28 years here at Beebe and I often say to my wife Nancy that I have probably spent more time with the people in my office and at the hospital than with her at home. It has really been a wonderful experience and I thank you."
To learn more about Dr. Katz and his contributions, go to www.beebehealthcare.org/mayer-katz.
Beebe Medical Foundation was established in 1989 with the sole mission to raise philanthropic support for Beebe Healthcare. The Foundation is located at 902 Savannah Road, Lewes, DE 19958. To learn more about how you can give, please contact the Beebe Medical Foundation at (302) 644-2900 or visit us online at https://www.beebemedicalfoundation.org.
To find out how Beebe Healthcare is creating the next generation of care for the community, go to www.nextgenerationofcare.org.
Captions:
Dr Katz with Draper Family: Shown (left to right) are Sam and Mariah Calagione, Amy and Hank Draper, Dr. Katz, Francesca Curtin, and Molly Draper Russell.
Judy Aliquo Mr Fried and Dr Katz with Plaque: Shown are Judy Aliquo, President & CEO, Beebe Medical Foundation; Jeffrey Fried, President & CEO, Beebe Healthcare; and Dr. Mayer Katz with the plaque that will be displayed at the Vascular Lab.
---