Ellie Spare is first Beebe Baby of the New Year
First Baby of 2018, born in the First Town, in the First State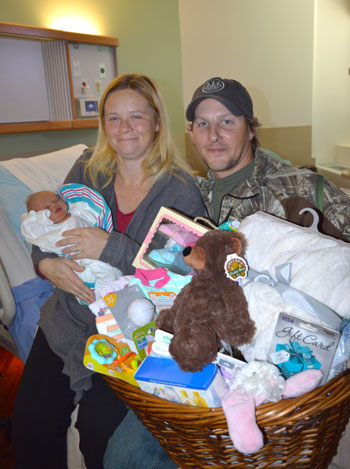 Ellie Spare joined the world at 1:51 a.m. on Monday, January 1, making her the first Beebe Baby of 2018.
Mom, Katherine, and dad, Phil, were not prepared to have a New Year's Day baby. Ellie wasn't due until mid-January.
"I was doing laundry on Sunday and whoosh, my water broke," recalls Katherine. The Millsboro couple was admitted to the hospital about 30 minutes later. Dr. Angela Caswell-Monack of Beebe Women's Healthcare – Plantations delivered Ellie.
Beebe's Women's and Children's Health team had put together donations for a basket for the First Baby to receive. The basket includes onesies, little booties, blankets, and more.
Ellie joins two siblings at home – a 6-year-old brother and a 22-year-old sister.
"We joke that Ellie is here only because of her brother," said Phil. "We weren't planning to have any more children, but her brother wished for a baby in a wishing well and two weeks later we found out we were pregnant!"
Beebe Healthcare is creating the next generation of Women's and Children's Health with its proposed $180 million expansion plan. The plan calls for an expansion on the main campus in Lewes to include a new labor and delivery wing to serve the growing population of young families. 
Beebe is proud to be a Baby-Friendly™ Hospital, reflecting its commitment to the optimal level of care for infant feeding and mother-and-infant bonding. 
---