Go Red Luncheon nets $28,000 for American Heart Association
The 10th annual American Heart Association luncheon and fashion show held at Baywood Greens in Long Neck in the fall raised $28,000 to support the American Heart Association of Southern Delaware. The event was attended by a sell-out crowd of more than 200 women and men. Sponsors included: Beebe Healthcare; Boulevard Ford-Lincoln of Lewes and Georgetown; Delaware Electric Cooperative; Fulton Bank; NRG; Preston Automotive Group, and WSFS Bank.
Keynote speaker was cardiothoracic surgeon Dr. Christopher Genco, Chief of the Cardiothoracic Surgery Program at Beebe Healthcare, who encouraged those attending to practice "Life's Simple 7" to help prevent heart disease: manage blood pressure; control cholesterol; reduce blood sugar; get active; eat healthy; lose weight; and stop smoking.
The event co-chair Pat Sandy and Jeffrey M. Fried, President and CEO of Beebe Healthcare, the presenting sponsor, presented the check to John Pierson, Executive Director of the American Heart Association in Delaware.
To raise awareness about heart disease in women, the American Heart Association in 2004 kicked off the Go Red for Women social and educational initiative, which includes an annual fundraising luncheon bringing women together to learn more about the disease so that they can empower themselves.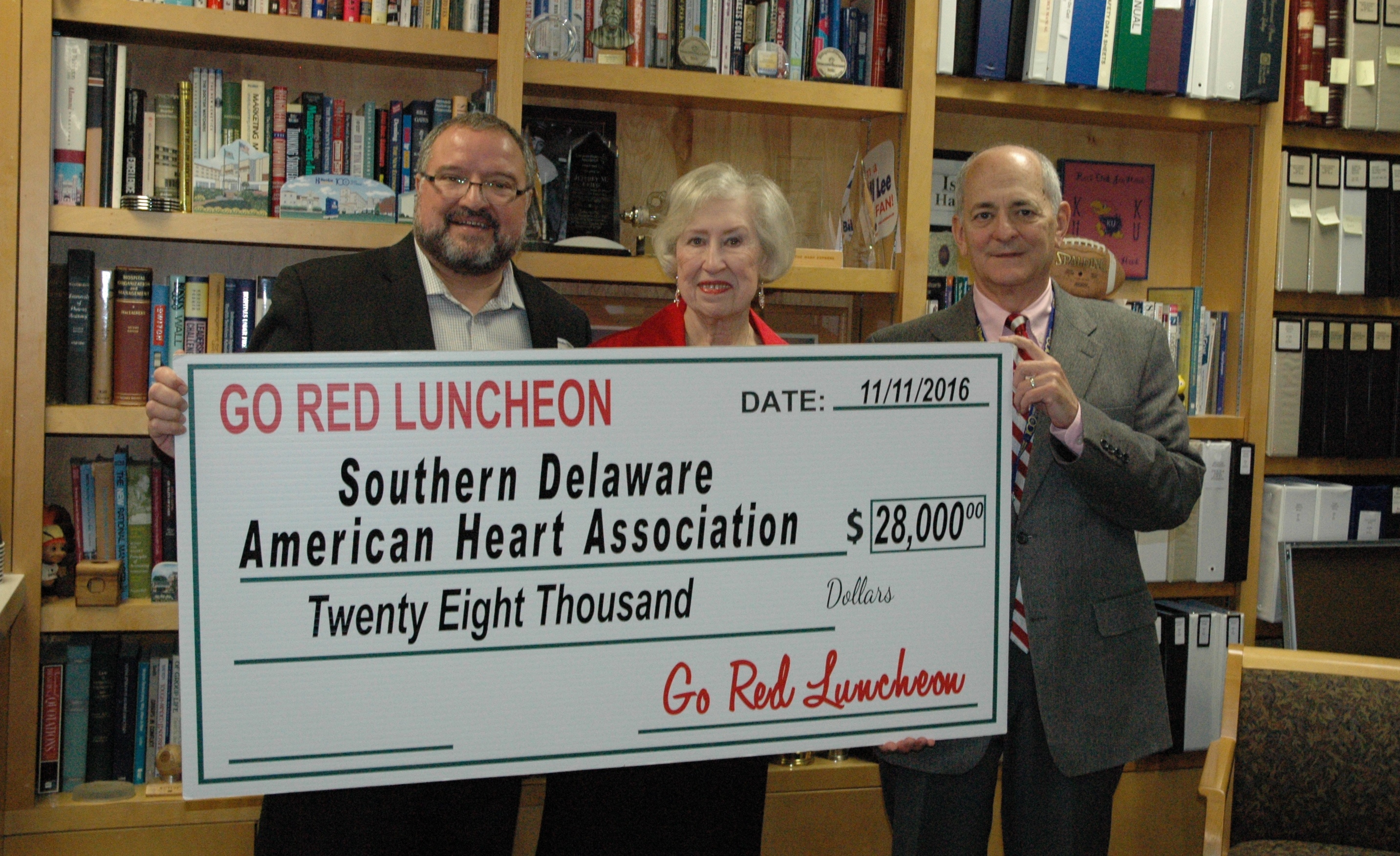 Caption: Pictured here are, left to right, John Pierson, Executive Director of the American Heart Association of Delaware, Pat Sandy, co-chair of the Go Red For Women fundraising luncheon and fashion show at Baywood Greens; and Jeffrey M. Fried, President and CEO of Beebe Healthcare
---