Jean & Joan Golf Tournament Celebrates 20 Years of Golf, Survivorship, and Benevolence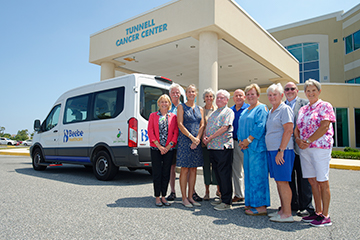 One of Sussex County's longest running charity golf tournament will turn 20 this September.
For the founders and countless volunteers who have helped the Jean & Joan Cancer Fund Golf Tournament grow from humble beginnings, it's another benchmark for the group that has raised more than $550,000 for Beebe Healthcare's Robert & Eolyne Tunnell Cancer Center since 2000.
"A lot of the local community supported us from the very start," said Jim Martin, who helped found the tournament in memory of his wife, Joan. "Our first tournament in 2000, we had 124 golfers and were able to contribute $21,000."
This year's tournament will be again held at Kings Creek Country Club on Monday, Sept. 23. To register, visit www.beebemedicalfoundation.org/jean-and-joan-golf-tournament/.
Joan Martin died in October of 1998 after being treated at Beebe's Tunnell Cancer Center. Jim initially rebuffed the idea of a tournament to honor Joan's name. But Jim changed his mind and never has regretted founding the tournament with the help of those friends and neighbors.
When neighbor Jean James died in the summer of 1999, Jeanne Andrews, Mardee Corbett, Tillie McHugh, and Jim were joined by Beth Mangus and Donna Brockstedt, who was Jean's daughter.
The Jean & Joan Cancer Fund was born shortly after and they choose Tunnell Cancer Center for how the staff and physicians treat everyone who walk in the doors.
The fund has been able to assist with mobile workstations for nurses, infusion chairs, the beauty shop, and meditation garden. The committee has also purchased two buses, a car, and two SUVs to make transportation part of the focus of the center.
The tournament has evolved over the years, but the mission has not.
"We're not going to cure cancer. That's for people of a different paygrade, but we are able to affect individual lives and keep every dollar of donations in Sussex County," said Vicki Tull, Committee Chair for the last six years.
The 2020 event will be her last as Committee Chair.
"What I've always loved about the facility is that it's all self-contained," says Vicki. "You don't have to go off the campus to pathology or for a prescription fill or to get a wig. They try and make it so that when you come in the doors, they take you in – that's really compelling."
One recent introduction to the tournament is that it will offer a pickleball session for those who want to participate, but golf isn't quite their sport of choice.
Vicki said new ideas will keep coming when Cherrie Rich takes over as Committee Chair next year. She is also the former Executive Director of the Tunnell Cancer Center.
"There's been a legacy established," Cherrie says. "The community wants to support this tournament. They want to support the cancer center."
One evening that Cherrie, Vicki, and Jim all recall is the first rainout in the tournament's history in 2018.
Since the tournament was canceled, only the dinner was held for all sponsors and guests. Over 120 people still came out to support the Jean & Joan Fund, a testament to the efforts put forth by the committee and also the giving community.
In her time as committee chair, those impactful moments are the ones Vicki will remember.
"At every event after dinner, we have a moment of silence to remember our loved ones and family and friends we've lost," she says. "But one year, we introduced the ringing of the bell concept. It means you've made it through your cancer treatment. It's obviously a very joyous time. So we said let's celebrate life, asking everyone to stand who has been diagnosed with cancer.
"The people that stood up, some of them I didn't even know had gone through the fight. That to me was an emotional moment to see that there is an impact in all the work we do."
Caption: At the Tunnell Cancer Center are (l-r) Beebe Medical Foundation President and CEO Judy Aliquo, David Mann, Vicki Tull, Diane Barlow, Jim Martin, BMF Vice President of Development Tom Protack, Cherrie Rich, Judy Wetzel, Rick Schaffner, and Ruth Lauver.
---