Jennifer Whaley, BSN, RN, CCRN, Earns National Recognition for Long-Term Dedication to Excellence in Nursing
Image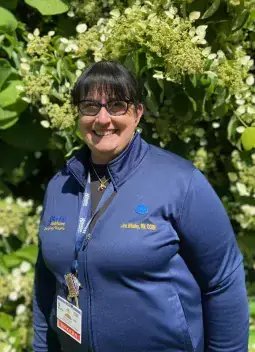 Jennifer Whaley, BSN, RN, CCRN, a nurse at Beebe Healthcare, was recently recognized by the American Association of Critical Nurses (AACN) for her long-term commitment to excellence in nursing. Whaley has maintained her board certification as a critical care registered nurse (CCRN) for 30 years.
CCRN certification is one of the most advanced professional credentials that can be achieved by a nurse, whose work involves providing comprehensive care for patients who are critically ill, unstable, and facing life-threatening medical issues or injuries. Research shows that nurses who are CCRN certified are highly experienced and skilled, and committed to building and maintaining a culture of clinical excellence within their respective hospitals and healthcare institutions.
Whaley's commitment to sustaining CCRN certification for three decades has positively impacted patient care in the hospital's intensive care unit, and in particular, has benefitted patients who are admitted to Beebe in need of comprehensive trauma care. Whaley has worked for Beebe Healthcare since 2000 and was named the hospital's Trauma Program Manager in 2004.
Earlier in her career, she worked for Bristol Regional Medical Center, which crosses the Virginia and Tennessee state lines. She was inspired to pursue a career in nursing by many generations of women in her family, who also served as nurses, and who taught her early on how fulfilling it is to care for others.
"I love being a nurse because I get to help people get better and have a good quality of life," said Whaley. "It's in my heart. I was built to do this."
Additionally, Whaley has valued the opportunity she has had at Beebe to serve as a mentor and role model for others who are pursuing nursing as a lifelong career.
"It has been an honor to work with young nurses and guide them as they start out and begin to grow in their careers," said Whaley, who serves as Beebe's trauma representative on the Delaware State Designation Committee for AACN. "I have found that I love to teach."
Whaley and her husband, Art, a golf professional, have one daughter, Alyssa, who is currently pursuing her college degree with focus on pre-med.
"We moved to Delaware from Tennessee many years ago and have never looked back," said Whaley. "We love living here, and I am so proud to be part of Beebe Healthcare for all of these years." 
---