Karen Pickard awarded first Nursing Philanthropy Award by Beebe Medical Foundation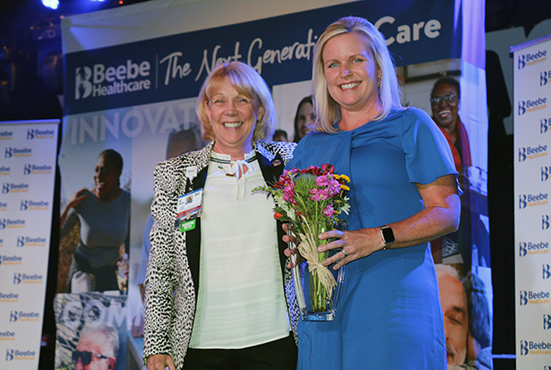 Beebe Medical Foundation awarded Karen Pickard, MSN, RN, CNE, with the first Nursing Philanthropy Award at the recent Nursing Excellence Awards ceremony in May.
Pickard, the Margaret H. Rollins School of Nursing Program Administrator, was honored for her leadership and dedication, according to Judy Aliquo, CFRE, President and CEO Beebe Medical Foundation.
"Under Karen's leadership, the Margaret H. Rollins School of Nursing educates the best nurses," Ms. Aliquo said. "Many are thrilled to join the Beebe team after graduation. We consistently have the highest NCLEX Pass Rate—the nursing licensure exam—in the State. This is only possible with excellent teachers as well as extraordinary clinical experience at Beebe. Karen is a true Beebe Believer. She and her husband, Tom, are proud members of the 1916 Club. We are grateful for the support of many of nurses, like Karen, who give back to Beebe – the place they work and love."
The Nursing Philanthropy Award is given to a nurse whose career and service to the community embodies several or all of the following criteria. Nominees have been recognized by grateful patients through the Celebrate Excellent Care program. Nominees attend or volunteer at Beebe Medical Foundation events and/or have organized a fundraising event benefitting the Beebe Medical Foundation. Nominees are active donors, Giving Hands Society members, or 1916 Club members and are willing to speak with donors about philanthropy.
"We are thrilled to honor Karen for her partnership with the Foundation," Ms. Aliquo said. "Karen was recently honored by the Rollins family's Ma-Ran Foundation with the $1 million endowment to support professional development for the School of Nursing faculty. Each year Karen provides an update to the contributors to the School about the exciting happenings at the School."
Pickard's philanthropy has extended beyond working with the Foundation to award scholarships. A few years ago, Pickard helped create the Margaret H. Rollins Philanthropy Award to recognize and outstanding student who have given back to Beebe and the community. That graduate is recognized at graduation. This year's graduation is on May 30 at 6 p.m. at Epworth United Methodist Church. The public is welcome to attend.
"I am humbled by this honor and all that the Beebe Medical Foundation does for the School of Nursing and Beebe Healthcare," Pickard said. "The School of Nursing faculty's goal is to produce the highest-quality graduates, and the Foundation's hard work assists in making that possible every year. I am happy to be able to give back to such an amazing group."
As a community-based, not-for-profit healthcare system, Beebe Healthcare depends on the generous support of individuals, corporations, businesses, and private foundations. All gifts to Beebe Healthcare, large or small, are tax-deductible and are channeled through Beebe Medical Foundation. To learn more about how you can make a gift to support nursing students attending the Margaret H. Rollins School of Nursing at Beebe Healthcare, please contact the Beebe Medical Foundation at (302) 644-2900 or email [email protected].
Beebe Healthcare is a not-for-profit community healthcare system with a charitable mission to encourage healthy living, prevent illness, and restore optimal health for the people who live in, work in, and visit the communities we serve. Beebe Healthcare has three campuses: the Margaret H. Rollins Lewes Campus, which houses the medical center; the Rehoboth Beach Health Campus; and coming in 2020, the South Coastal Health Campus. Beebe Healthcare offers primary care as well as specialized services in the areas of cardiac and vascular, general surgery, robotic surgery, cancer treatment, women's health, and orthopaedics. Beebe also offers walk-in care, lab, imaging and physical rehabilitation services at several locations throughout Sussex County, in addition to a Home Care program and an adult activities center.
For more information about Beebe Healthcare, go to www.beebehealthcare.org. To find out how Beebe Healthcare is Creating the Next Generation of Care for the community, go to www.nextgenerationofcare.org.
Caption: Judy Aliquo, CFRE, President and CEO Beebe Medical Foundation, and Karen Pickard, MSN, RN, CNE, Margaret H. Rollins School of Nursing Program Administrator, pose for a photo at the Nursing Excellence Awards. Pickard was awarded with the first Nursing Philanthropy Award.
---