Margaret H. Rollins School of Nursing Students, Faculty Travel to Peru for Service-Learning Trip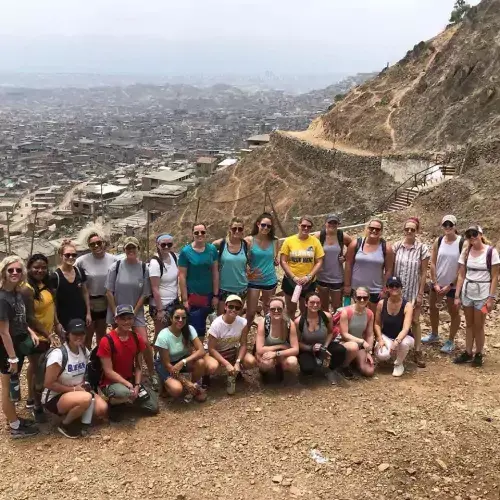 For the first time in the 99-year history of the School of Nursing at Beebe Healthcare, students and faculty embarked on an international service-learning trip.
In August 2019, a MEDLIFE chapter was started at the Margaret H. Rollins School of Nursing. MEDLIFE stands for Medicine Education and Development for Low-Income Families Everywhere.
This allowed the school to start planning and fundraising for service-learning trips. For the inaugural trip, the students chose the destination of Lima, Peru.
MEDLIFE provides aid in many different countries, however the largest chapter is located in Lima. On January 18, the Margaret H. Rollins School of Nursing faculty and students embarked on a 24-hour journey to Peru. The group consisted of 21 students and two faculty members.
In Lima, students and faculty participated in activities which served the communities in and around Lima by way of mobile clinics. These clinics provide free, high-quality healthcare directly to communities which lack access to basic health services. MEDLIFE staff, local healthcare practitioners, and School of Nursing volunteers aided in keeping the stations running smoothly while providing care to numerous members of the community. By partnering with the local practitioners, the clinics are able to meet the current needs of the community and the same providers stay in the community after the volunteers complete their trip.
As senior nursing student Mariah Little said, "It was such a humbling experience to assist individuals in providing healthcare to people who may have never seen a doctor at the age of 40. These individuals allowed us to touch their lives, but little did they know they impacted mine even more as a human being and as a future nurse."
The MEDLIFE experience also included an educational component.  Students and faculty were able to learn some Spanish and assist with teaching the children how to properly brush their teeth. There were also education sessions for the adults which focused on common health problems seen in the community, as well as the identification and treatment for those illnesses.
The MEDLIFE program also participates in the development of community with a focus on building infrastructure to aid in access to basic resources.  Many live without electricity, water, bathrooms, safe exits or roads, and more. The MEDLIFE program requires a 50/50 working relationship with community members in order to bring much needed resources to the area. 
While they were there, the School of Nursing group built a 45-meter staircase. Students and faculty worked side by side with community members all day – it was a large project!
Community members not only worked with the volunteers, but many had worked at their regular jobs, and then continued on another staircase that evening after students left for the day.
When asked about the trip, senior student, Matty Fagan said, "We built a staircase within this community with buckets and buckets of cement. We formed an assembly line and passed buckets for hours. It was one of the hardest things I've ever done."
Yes, the week consisted of long, hard days but it also consisted of moments where students and faculty could explore the beautiful coastal town of Mira Flores.  As students worked on building the infrastructure of the community, participating in health screenings and educating locals, they also created a shared experience which bonded this group of future nurses more than anyone could have anticipated. 
Senior student, Quincey Book said, "Going to Peru has had such a significant impact on my future as a nurse. To be able to see people experiencing poverty and going without basic necessities is so eye opening.  I feel an entirely new level of compassion and empathy for others."
At the end of the trip, the group had an incredible experience where they got to return to the completed staircase they helped build earlier in the week.  There was an inaugural party for the staircase. This was a huge community-wide celebration complete with singing, dancing, and delicious food.
Kerry Carr, senior student said, "As we slung hundreds of buckets of concrete just days prior to build the staircase, to be welcomed by members of the community with a standing ovation right before the inauguration was inspiring. Children who didn't even know us grabbed our hands to dance, families wanted to take pictures with us, despite the obstacles this community faced they continued to celebrate."
Florangel Sandoval, senior student, said "For me, going to Lima and being able to contribute with something so little made me realize how blessed I am now to be able to give, when years before I was in the same situation, struggling, hoping, and receiving." 
Florangel was one nursing student who is fluent in Spanish and was able to connect with community members on a whole different level.
"As much as these communities thanked us for coming, they did not realize how much they really did for us," said senior student, Alexis Leskovac.
As the student leader for the MEDLIFE Service-Learning trip, Alexis was humbled by the amount of community support, "I never imagined we would have 23 members, including students and faculty going on this trip. In less than two months our school of nursing came together and raised nearly $8,000 through various fundraisers and donations. We are so fortunate to have such overwhelming support from our local community!"
"We at the Margaret H. Rollins School of Nursing would like to thank all of our donors who made this trip possible and we hope this will be the first of many service-learning trips," said Karen Pickard, Program Administrator.
If you are interested in contributing to any future service learning trips, please contact the Beebe Medical Foundation at 302-644-2900 or [email protected]. The Beebe Medical Foundation is a 501©(3) non-profit. Your contribution is tax-deductible as allowed by law.
Image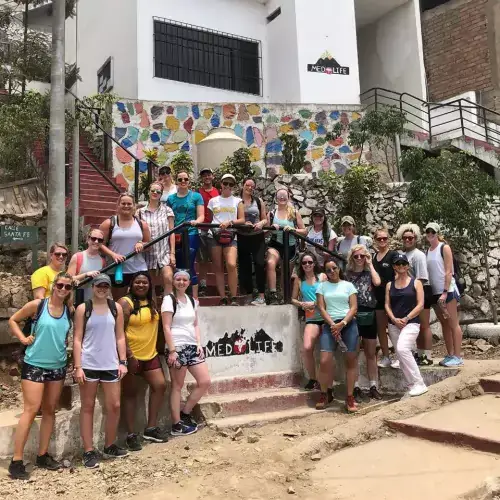 Students with previous staircase: Pictured Left: Students and Faculty from Margaret H. Rollins School of Nursing in front of a previously built MEDLIFE staircase and building.
Image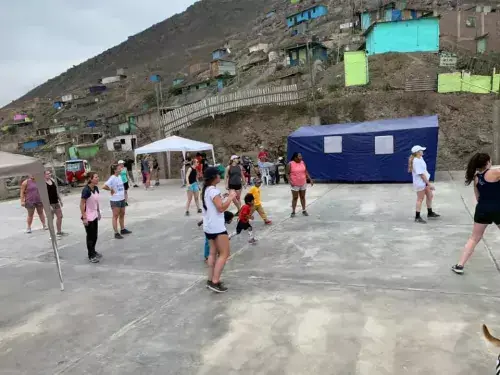 Students playing soccer:  Students playing soccer with community members and children.
Image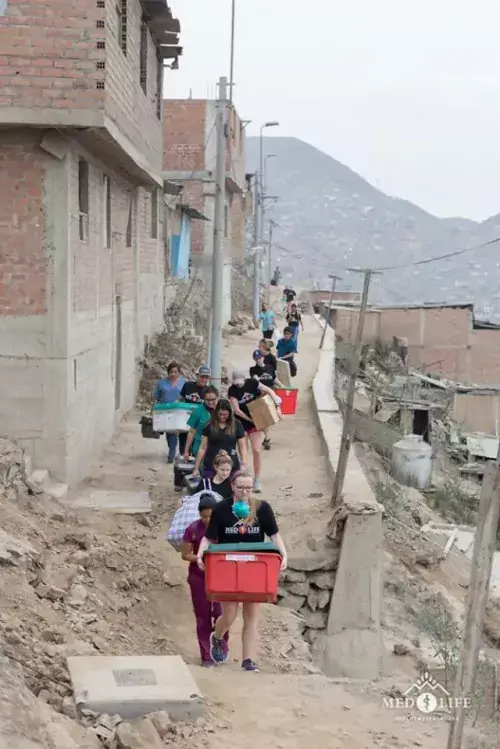 Students carrying supplies: Students carrying supplies from the bus to the area where the mobile clinic would bet set up for the day.
Image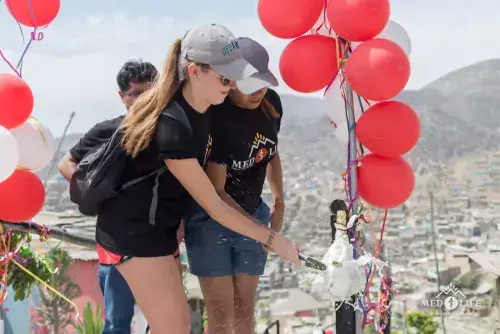 Alexis and Florangel: Senior students Alexis Leskovac and Florangel Sandoval breaking a champagne bottle celebrating the new staircase.
Image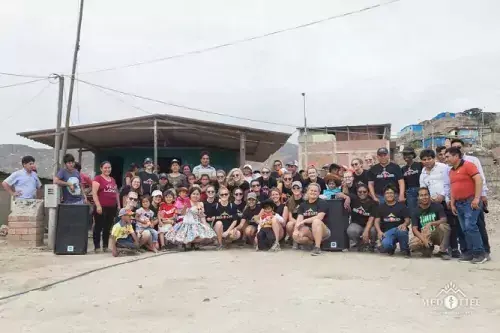 Staircase celebration: Community members and MEDLIFE volunteers from MHRSON at the staircase celebration.
---