Nurses Week: Lewes Lions Club Thanks Beebe Healthcare Nurses for Service during Pandemic 
Image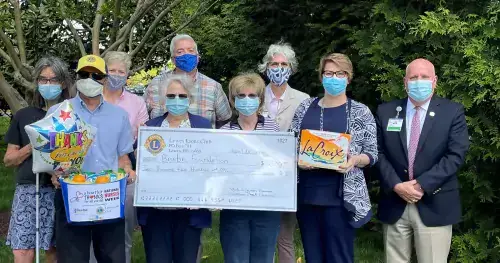 The Lewes Lions Club reached out to Beebe Medical Foundation to make a gift that would thank Beebe's nurses for the care they have provided and all they are doing to support the community, especially during the COVID-19 pandemic.
With National Nurses Week starting May 6, the Lions decided their $2,500 gift would help the Foundation prepare healthy snack baskets to distribute to the nurses during their shifts at this special time of year. National Nurses Week begins on May 6 and ends on May 12, Florence Nightingale's birthday.
"Beebe Healthcare and Beebe Medical Foundation are grateful for the strong and loyal partnership we have enjoyed for so many years with the Lewes Lions Club," said Tom Protack, President of Beebe Medical Foundation. "This wonderful gesture of providing snacks, treats, and refreshments to our nurses is a great sign of appreciation for all our nurses have done to keep us safe during this pandemic."
"Our members know nurses are working in harm's way every day and the sacrifices they make. This is our way to thank these true heroes and let them know they are appreciated by the community," Lewes Lions Club President, Lloyd Schmitz said.
The Lewes Lions Club is always looking for members and is currently holding virtual meetings via Zoom on the second Wednesday of the month (September through June) starting at 6:30 p.m. For more information or to get involved with the Lewes Lions Club, please email us at [email protected].
Presenting their check in front are Lewes Lions Club member Kat Schmitz, President Lloyd Schmitz, Secretary Joanne Friend, member Kathy Engel, and Treasurer Michele Jessup. In the back are Beebe Medical Foundation Executive Director of Development Kay Young, Gift Officers Dave Szumski and Diane Barlow, and President Tom Protack.
---