Nursing Comes Full Circle at Beebe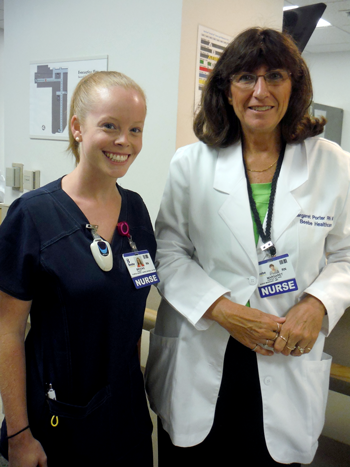 Brooke Talbot started at Beebe Healthcare as a medical-surgical nurse in August.
During the interview process, she met Margaret Porter, RN, nurse manager of 3MS, the medical-surgical unit where Brooke would be working. The two soon realized that Margaret had started her career at Beebe working with Brooke's grandmother, Hilly Stevens, in 1975. "It's only fitting that I am the one to guide Brooke as she starts her career at Beebe, as her grandmother guided me when I started," said Porter. "It's not only a similar situation, but Brooke is working on the same floor her grandmother did when she worked at Beebe. Everything truly comes full circle."
Brooke graduated from Delaware Technical Community College with her Associate's Degree in Nursing this past spring. "I am honored to now call Beebe my home and continue to follow in my grandmother's footsteps," Brooke said.
Shown are Brooke Talbot, left, and Margaret Porter, right.
---