Pet Volunteers Impact Both Patients and Team Members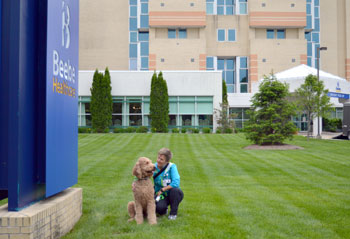 When Susan Warren decided it was time to focus more energy on herself and leave her high-powered career in Vermont to relocate to the quieter atmosphere in Lewes, she knew one of her goals would be to give back to her new community.
After starting in the Anatomic Pathology Department of the Laboratory at Beebe in September, Susan found her chance to give back in the PAWS for People program, which connects service dogs and owners with patients.
Beebe Healthcare kicked off its pet therapy program in 2014 for patients, visitors, and team members. This alternative therapy has been shown to decrease blood pressure and improve even short hospital visits for patients and visitors. In addition, having a dog visit team members has been shown to greatly reduce stress.
PAWS for People, a Wilmington-based nonprofit 501(c)3 pet therapy organization, recruits, trains, certifies, and places therapy teams in Delaware, Maryland, Pennsylvania and New Jersey. The PAWS organization helps coordinate teams at more than 130 locations, which now includes Beebe in Lewes.
"The program here at Beebe mimics other successful programs at hospitals, including Nemours/A.I. DuPont and Christiana Care in Wilmington," said Halloran. "All of the dogs and handlers have gone through specific training courses for healthcare visitations."
Beebe started with five service dogs and their owners; the organization now has 15 teams in the program. PAWS for People will hold two training sessions in June for those interested in providing pet therapy in a medical setting. For more information on the trainings, call Lee Halloran, Manager of Volunteer Services for Beebe Healthcare, at (302) 645-3531.
For Susan and her GoldenDoodle Oliver, the benefits for the patients are extremely rewarding. However, it was the impact of the program on herself that really surprised Susan.
Just the other week, Oliver and I were visiting with a patient and her family. Oliver was visiting with each of the three visitors in the room and also going over to the patient in the bed. During one of his trips to the bed, Susan leaned over the patient, and a flicker of recognition went like lightning through her mind.
"I had this image of my mother. Something about this patient reminded me of her and as I was walking home, all these memories came flooding back to me," Susan recalls. "It was incredible and it really opened my eyes to how much this program impacts me, not only as a Beebe team member who is giving back, but also as a human who is able to make these connections."
While Susan was relishing in her experience, the patient's family was also touched by the visit. The niece of the patient later posted photos from the visit to her social media page, exclaiming how impactful the pet therapy was for her aunt.
"It really came full circle when I saw the pictures of Oliver and the patient online," Susan said. "Wow, what an impact for everyone, and how lucky I am to be a part of this organization that provides this hands-on service to bring some light into patient experiences."
"Pet visits help relax patients and allow them to reconnect to memories they may have had as children with a pet. Patients, visitors, and team members from all walks of life really benefit from pet therapy, and it is a joy to see how someone's face lights up when the dog comes into the room," said Jeannie Briley Wallo, Director of Patient Experience.
For more information on the pilot program at Beebe, contact Lee Halloran at (302) 645-3531.
For more information on Paws for People, go to www.pawsforpeople.org.
Shown are Susan Warren and Oliver on their way to volunteer in the Medical Center.
Beebe Healthcare is a not-for-profit community healthcare system with a charitable mission to encourage healthy living, prevent illness, and restore optimal health for the people residing, working, or visiting in the communities we serve. It offers services throughout Southern Delaware for residents and visitors, including a 210-licensed-bed hospital, a cancer center, and outpatient facilities providing walk-in care, lab, imaging, and physical rehabilitation services. For more information, please visit us online at www.beebehealthcare.org.
---