Pickleball Survivors Donate $2,000 to Beebe Healthcare's New Health Campus Near Millville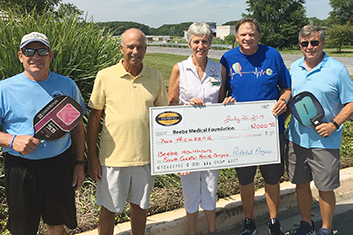 On Friday, July 26, team captains of Team Cancer and Team Cardiac from the Survivors' Team Pickleball Competition joined organizer Vaughn Baker to present a $2,000 donation for Beebe Healthcare's new freestanding emergency department and cancer center due to be completed on Roxana Road near Millville in 2020.
The survivors' competition was intended to show citizens of Delaware that despite cardiac and cancer events, with proper and timely medical care they can return to an active lifestyle. The funds donated were raised from the pickleball community at a fundraiser at Big Chill Beach Club for the Cardiac vs Cancer Survivors' Team Competition.
"The participants in the Survivors Team Pickleball – all either cancer or cardiac survivors – unanimously requested that the funds go to the new Beebe Healthcare campus, which will put a great many more of us within the important 'golden hour' for cardiac events, as well as provide quality cancer care in a convenient location," Baker said.
Pickleball has been around more than 50 years and became popular in southern Delaware about five years ago with the formation of the First State Pickleball Club and their beginner clinics. The recent five-year Delaware Recreation report indicated that 20% of the survey in southeast Sussex County now play pickleball.
"The health benefits that these pickleball players seem to be receiving from their sport is certainly in accord with Beebe's desire to keep people healthy through exercise and an active lifestyle," said Diane Barlow, Beebe Medical Foundation Gift Planning Officer.
Beebe Healthcare is a not-for-profit community healthcare system with a charitable mission to encourage healthy living, prevent illness, and restore optimal health for the people who live in, work in, and visit the communities we serve. Beebe Healthcare has three campuses: the Margaret H. Rollins Lewes Campus, which houses the medical center; the Rehoboth Beach Health Campus; and coming in 2020, the South Coastal Health Campus. Beebe Healthcare offers primary care as well as specialized services in the areas of cardiac and vascular, general surgery, robotic surgery, cancer treatment, women's health, and orthopaedics. Beebe also offers walk-in care, lab, imaging and physical rehabilitation services at several locations throughout Sussex County, in addition to a Home Care program and an adult activities center.
For more information about Beebe Healthcare, go to www.beebehealthcare.org. To find out how Beebe Healthcare is Creating the Next Generation of Care for the community, go to www.nextgenerationofcare.org.
Caption: Pictured left to right: Steve Costa, Coastal Communities Pickleball League; Mike Smith, Co-Captain Team Cancer; Diane Barlow, Beebe Medical Foundation Gift Planning Officer; Stan Piesla, Coastal Communities Pickleball League, and Steve Melofchik, Captain Team Cardiac.
---