Rehoboth Jazz Festival Pledges $100,000 to Beebe Healthcare's Tunnell Cancer Center over Next Five Years
The Delaware Celebration of Jazz, a 501(c)(3) non-profit organization, which produces the Rehoboth Beach Jazz Festival has supported Tunnell Cancer Center for many years, and to date has raised more than $77,000. This year the Board of Directors announced a 5-year, $100,000 pledge for Tunnell Cancer Center. This will support plans for a new cancer center in Millville, which is part of Beebe Healthcare's capital campaign. At the Jazz Festival, the Beebe Medical Foundation unveiled a new method for guests to make direct gifts in a convenient way via texting for people wanting to show their support. The public still has the opportunity to text JazzFest to 91999 and make a donation with their card today, as it has not closed.
"The Board of Directors is proud to be part of this new cancer center and also continues to support Beebe Healthcare's Tunnell Cancer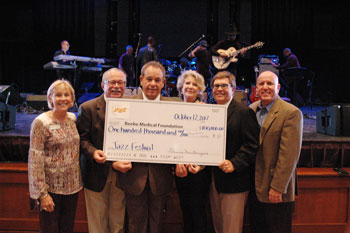 Center. We hope everyone will join in and make a generous donation to help build this new center because we all know cancer has touched everyone in one way or another. We will continue our support by providing what we call 'the music for the cure'," said Dennis Santangini, President of the Delaware Celebration of Jazz.
"We are honored to receive the generous support from the Rehoboth Beach Jazz Festival and the entire community. Our patients from Tunnell Cancer Center frequently share their thanks and support as they recognize the doctors and nurses who provide such excellent care and compassion. It will be so wonderful to open another cancer center in the Millville area to make it most convenient for patients living there to receive treatment," said Judy Aliquo, CFRE, President and CEO of Beebe Medical Foundation.
Since its inception in 1995, Tunnell Cancer Center has cared for more than 14,089 newly diagnosed patients. Notable in the past year, the center established clinical performance groups for both lung cancer patients and breast cancer patients. These clinical performance groups incorporate expertise in the field, from primary care providers, radiologists, medical oncologists, and radiation oncologists. Using a team approach, they look at processes and guidelines for that specific patient population. In addition, Beebe Healthcare's Breast Center Accreditation was granted a three-year/full-accreditation designation by the National Accreditation Program for Breast Centers, a program administered by the American College of Surgeons. This designation represents a renewal for Beebe Healthcare, which earned accreditation in 2013 and was the first organization in Delaware to do so. Tunnell Cancer Center's highly-skilled, multidisciplinary team works to support and treat every patient as an individual, with the goal of providing the utmost support, encouragement, and hope along each patient's unique journey.
Photo Caption: (shown from left to right) Judy Aliquo, CFRE, President and CEO of Beebe Medical Foundation; Bing Crosby, Director, Delaware Celebration of Jazz, Inc.; Denny Santangini, President, Delaware Celebration of Jazz, Inc.; Kas Naylor, Director, Delaware Celebration of Jazz, Inc.; Larry DeFrancisco, Vice President, Delaware Celebration of Jazz, Inc.; and Thomas J. Protack, Vice President of Beebe Medical Foundation.
Beebe Medical Foundation was established in 1989 with the sole mission to raise philanthropic support for Beebe Healthcare. The Foundation is located at 902 Savannah Road, Lewes, DE 19958. To learn more about how you can give, please contact the Beebe Medical Foundation at (302) 644-2900 or visit us online at Beebe Medical Foundation.
About Tunnell Cancer Center
Beebe Healthcare established Tunnell Cancer Center in 1995. It has received the Commission on Cancer's highest accreditation with commendation as a comprehensive community cancer center. Its clinical specialties are medical oncology/hematology and radiation oncology. It also offers a multidisciplinary approach for planning all cancer treatment. Nearly 300 patients visit the center each day.
Beebe Healthcare is a not-for-profit community healthcare system with a charitable mission to encourage healthy living, prevent illness, and restore optimal health for the people residing, working, or visiting in the communities we serve. It offers services throughout Southern Delaware for residents and visitors, including a 210-licensed-bed hospital, a cancer treatment center, home care services, and outpatient facilities providing walk-in care, lab, imaging, and physical rehabilitation services. For more information, please visit us online at Beebe Healthcare.
---