Schell Brothers 4th annual Car Show at Independence donates proceeds to Tunnell Cancer Center
Schell Brothers 4th annual car show at the Independence 55+ Community in Millsboro chose Beebe Healthcare's Tunnell Cancer Center as the recipient for funds raised at the 2016 event.
This week, representatives from the Car Show Committee and from Schell Brothers/Ocean Atlantic presented Tunnell Cancer Center with a check for $1,588 to be used to benefit cancer patients. The special interest car show, which was free to the public and which took place in June at Independence, displayed 120 cars divided into seven classes with hundreds of people attending.
To learn more about how you can give to Beebe, or choose one of its many services as the beneficiary of your event, please contact the Beebe Medical Foundation at (302) 644-2900.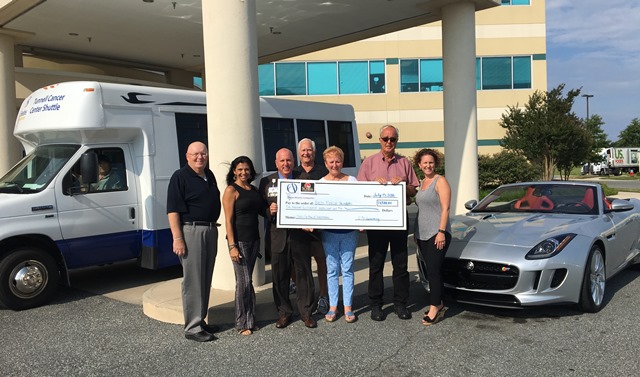 Caption: Pictured here, left to right, between the Tunnell Cancer Center patient bus and a 2014 Jaguar F Type S owned by Denny Spaulding, are: Dick Coyne, Independence Car Show Committee; Stacy LaMotta, Independence Event Director; Tom Protack, Vice President of Beebe Medical Foundation; Everett Toomey, Independence Car Show Committee; Cherrie Rich, Executive Director of Oncology Services at Beebe Healthcare; Denny Spaulding, Chairman of Independence Car Show Committee; and Jill Burton of Ocean Atlantic.
Beebe Healthcare is a not-for-profit community healthcare system with a charitable mission to encourage healthy living, prevent illness, and restore optimal health for the people residing, working, or visiting in the communities we serve. It offers services throughout Southern Delaware for residents and visitors, including a 210-licensed-bed hospital, a cancer center, and outpatient facilities providing walk-in care, lab, imaging, and physical rehabilitation services. For more information, please visit us online at Beebe Healthcare.
---