Schell Brothers Donate $25,000 to Beebe Medical Foundation as Diamond Sponsors for Beach Bash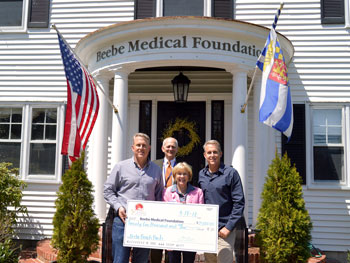 Beebe Medical Foundation and the Schell Brothers unveiled the largest single donation ever made for the Beebe Beach Bash, coming up June 2.
Schell Brothers generously donated $25,000 to the Foundation as Diamond Sponsors for the event, touted as the "Biggest Party of the Summer."
"At Schell Brothers, we like to have fun and party, so of course we wanted to be part of the biggest party of the summer," said Preston Schell.
"We have long been supporters of Beebe because healthcare is so important to our community," Chris Schell said. "Many of the people buying homes in our communities throughout Sussex County are coming here because of the great healthcare provided by Beebe."
"It is because of families like the Schells that Beebe has thrived for more than 100 years in this community," said Jeffrey Fried, FACHE, President & CEO, Beebe Healthcare.
"We are so grateful for the generous support of the Schell Brothers who continue to support Beebe and our community. We are honored that Schell's Diamond sponsorship is the largest sponsorship in the history of the Beebe Beach Bash," said Judy Aliquo, President & CEO, Beebe Medical Foundation. "We hope everyone will join Schell Brothers and all of us aboard the Cape May Lewes Ferry on Saturday, June 2, for the biggest party of the summer!"
The Beach Bash takes place Saturday, June 2, on a docked ferry boat at the Lewes Ferry Terminal. This year's event features Boardwalk games, dancing, dining, and music by The Fabulous Greaseband. The event supports Beebe's Emergency Department. Emergency services are planned to expand to the Millville area with the creation of a free-standing emergency department at a new Beebe Health Campus on Route 17.
Sponsorship opportunities are still available. Call Beebe Medical Foundation at (302) 644-2900 for more information.
Shown (left to right) are Chris Schell, Mr. Fried, Judy Aliquo, and Preston Schell in front of the Beebe Medical Foundation on Savannah Road in Lewes.
Beebe Medical Foundation was established in 1989 with the sole mission to raise philanthropic support for Beebe Healthcare. The Foundation is located at 902 Savannah Road, Lewes, DE 19958. To learn more about how you can give, please contact the Beebe Medical Foundation at (302) 644-2900 or visit us online at www.beebemedicalfoundation.org.
---