School of Nursing Awards Annual Dr. Carl G. Pierce, Jr. Scholarships
Image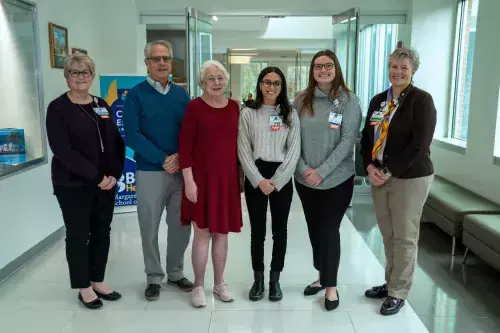 The Margaret H. Rollins School of Nursing at Beebe Healthcare is pleased to announce that Lillian Lima Santana, a senior student from Millsboro, and Kirsten Taylor, a senior student from Selbyville, are the recipients of the Dr. Carl G. Pierce, Jr. Scholarship.
Both students have accepted positions at Beebe Healthcare upon graduation in May. This scholarship is awarded to students based on their academic performance in Maternal, Child and Family Health Nursing, who have a caring and professional attitude, and an interest in pediatrics.
This scholarship was initiated by Mrs. Carl G. Pierce, Jr. and her family in memory of her husband and their father. Dr. Carl G. Pierce, Jr. was a physician at Beebe Hospital from 1951 until he retired in 1987.  Dr. Pierce had a long association with the School of Nursing where he served as school physician and taught student nurses about children.
From left to right, Tracy Bell, School of Nursing Program Coordinator, Carl Pierce, Jr., son, Meredith Cox, daughter, Lillian Lima Santana, Kirsten Taylor, and Kay Young, Beebe Medical Foundation.
---