Second Annual Beebe Goes Purple Guest Bartending Event Raises Over $85,000
Image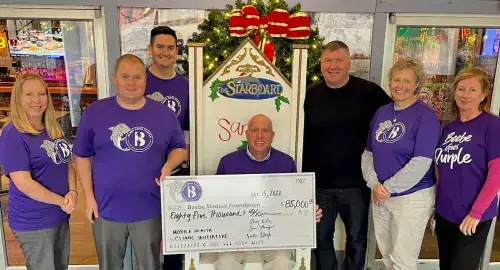 The proceeds from the 2nd Annual Beebe Goes Purple Guest Bartending event raised $85,186 for Beebe Healthcare's Go Purple Fund this fall. Beebe Goes Purple at The Starboard in Dewey Beach raised funds for awareness, education, prevention, and recovery related to the opioid epidemic in Sussex County.
Since its founding, the Beebe Goes Purple event has raised over $145,000 for Beebe Healthcare's Purple Fund.
These Go Purple funds have most recently been designated to support Beebe Healthcare's Community Mobile Health Clinic with a focus on Mental Health and Addiction Medicine. This mobile health initiative will provide low-threshold, low barrier clinical care and harm reduction services aimed at increasing access to addiction services for people at high risk.
Beebe will deploy a Mobile Health Clinic and a hybrid team of mental and behavioral health physicians, clinicians and community health workers to areas with high rates of opioid use and overdose to engage individuals, initiate and continue treatment, provide harm reduction services, and link those with Opioid Use Disorder (OUD) to long-term, comprehensive community-based care.
This year's event held at The Starboard, featured local community celebrities including: Jess Bain, Jack Berberian, Allen Carroll, Josh Coffield, Tommy Cooper, David Gonce, Christian Hudson, Jami Jackson, Dr. Katie Johnson, Carrie Lingo, Terry Megee, Carly Miller, Steve Montgomery, Murray Padgett, Andrew Parsell, Leanne Silicato Prosser, Tom Protack, Dr. Joyce Robert, Marcy Saliba, Chris Schell, Andy Staton, Alyssa Titus, Dr. Tarek Waked, and Lee Ann Wilkinson. Teams paired up for fifteen-minute shifts to serve drinks to friends, family, and Beebe supporters.
Alyssa Titus and Chris Schell took home the prize for raising the most funds on the night of the event with $5,038 and Lee Ann Wilkinson and Marcy Saliba took home the overall prize, raising $33,723.
"We had such great community support this year from The Starboard, all of our sponsors, our amazing bartenders, and all of our guests. We are truly blown away by the positive response we've received and the impact Beebe Goes Purple is having on the opioid epidemic," said Justen Albright, Financial Analyst, Beebe Medical Foundation. "We are already looking forward to next year's event."
The annual event is the brainchild of Beebe Medical Foundation's Young Professionals Group, led by Beebe Medical Foundation team members: Albright, Sean Flanigan, Gift Officer, and Amy Keller, Event Coordinator. The group, started in 2019, set out to make a difference in the lives of those affected by the opioid epidemic.
"We wanted to pull together young professionals in Sussex County who want to support Beebe but may not have the means just yet to be a part of something like the 1916 Club," Keller said. "This group came up with Beebe Goes Purple to give back to a cause that holds a lot of meaning to them. They all agreed that they have personally, or know someone who personally, has been affected by opioid addiction."
The 3rd Annual Beebe Goes Purple Celebrity Guest Bartending event will take place Thursday, September 28, 2023, at The Starboard.
"Our partnership with The Starboard this year really took our event to the next level. The generosity of Monty and The Starboard staff, along with our sponsors and supporters, created the perfect storm for success," Flanigan said. To learn more about ways to support and give to Beebe Healthcare's Go Purple Fund, or to get involved with Beebe Medical Foundation's Young Professionals, please contact Beebe Medical Foundation at 302-644-2900.
photo (L-R): Amy Keller, Beebe Medical Foundation Event Coordinator, Justen Albright, Beebe Medical Foundation Financial Analyst, Sean Flanigan, Beebe Medical Foundation Gift Officer, Tom Protack, Beebe Medical Foundation President, Steve Montgomery, Owner The Starboard, Kay Young, Beebe Medical Foundation Executive Director of Development, Kim Blanch, Beebe Healthcare Direct of Community Outreach. 
---