Summer Student Volunteer Program Teaches, Inspires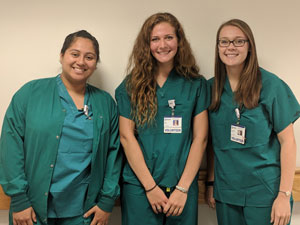 Beebe Healthcare recently celebrated the conclusion of another great summer of its Summer Student Volunteer Program.
The program is open to high school students ages 14 to 18 and college students in their freshmen through senior years of undergraduate studies. Students begin volunteering at the end of May and continue through mid-August, working in a variety of placement areas within the medical center at the Margaret H. Rollins Lewes Campus.
"Beebe's volunteer program offers students a meaningful and educational experience by providing them with the opportunity to volunteer at their local community healthcare system," said Lee Halloran, Manager of Volunteer Services, Beebe Healthcare. "The program encourages and develops students who have an interest in a career in healthcare and promotes valuable life skills, such as compassion and kindness."
Students volunteered throughout the medical center, including in the post-anesthesia care unit, in the cardiac catheterization lab, and as patient guides.
"I wanted to get into volunteering to maintain that patient contact and remain part of the medical community," said Ari August, a sophomore at the University of Delaware. Ari previously worked as a Certified Nursing Assistant and hopes to become a cardiothoracic surgeon.
"It's been an incredible experience, and we wouldn't have been able to have that if we weren't volunteers," added Peyton Farrall, a senior at the University of Delaware who aspires to become a surgical physician assistant.
For more information on Beebe's student volunteer program, please visit https://www.beebehealthcare.org/patients-visitors/volunteer
Beebe Healthcare is a not-for-profit community healthcare system with a charitable mission to encourage healthy living, prevent illness, and restore optimal health for the people who live, work, and visit the communities we serve. The medical center in Lewes is a licensed 210-bed hospital with specialized service lines, including cardiac and vascular, surgical services, medical oncology/hematology and radiation oncology, women's health, and orthopaedic services. Outpatient facilities, conveniently located throughout Sussex County, provide primary care, walk-in care, lab, imaging, and physical rehabilitation services, in addition to Beebe's home care services. 
Caption: From left to right: Daysi Torres-Vanegas, Ari August, and Peyton Farrall volunteered in the post-anesthesia care unit at Beebe Healthcare.
---