Tina Trout to Discuss "Diabetes & You" at Rehoboth Beach Library, November 7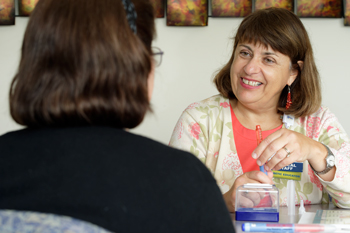 Tina Trout, Certified Diabetes Educator at Beebe Healthcare, will discuss tips for living your best life with diabetes. Tina will present "Diabetes & You" at 3 p.m. on Tuesday, November 7 at the Rehoboth Beach Public Library.
National Diabetes Month is observed every November so individuals, healthcare professionals, organizations, and communities across the country can bring attention to diabetes and its impact on millions of Americans. During the talk, Tina will cover diabetes symptoms and ways to ease them, as well as exercise and nutrition.
This event is open to the public - no RSVP required! It will be held in the second floor meeting room at the library. The Rehoboth Beach Library is located at 226 Rehoboth Ave., Rehoboth Beach. For more information, call the library at (302) 227-8044.
For more information on Diabetes Management at Beebe, go to https://www.beebehealthcare.org/diabetes-management. To make an appointment or for more information, call (302) 645-3121.
Beebe Healthcare is a not-for-profit community healthcare system with a charitable mission to encourage healthy living, prevent illness, and restore optimal health for the people residing, working, or visiting in the communities we serve. It offers services throughout Southern Delaware for residents and visitors, including a 210-licensed-bed hospital, a cancer treatment center, home care services, and outpatient facilities providing walk-in care, lab, imaging, and physical rehabilitation services. For more information, please visit us online at www.beebehealthcare.org.
Caption: Tina Trout sees patients at Beebe Diabetes Management and Medical Nutrition Therapy, located in the Medical Arts Building, Suite 210, at the Beebe Health Campus on Route 24 near Rehoboth Beach. To make an appointment or for more information, call (302) 645-3121.
---