Tom King Nine & Dine Raises More Than $40,000 for Beebe's Specialty Surgical Hospital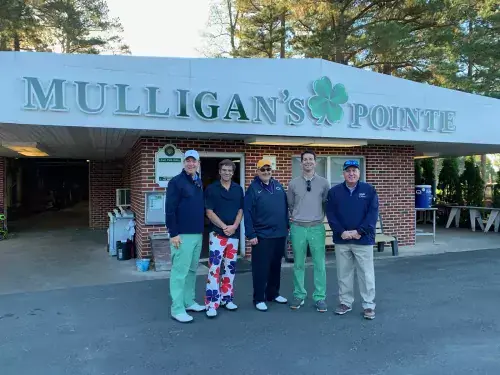 The Fourth Annual Tom King Nine & Dine was held Thursday, October 28, at Mulligan's Pointe in Georgetown. The tournament attracted 68 golfers, honoring Bob Moore this year. Due to ongoing COVID-19 restrictions, the tournament was not held in its traditional sense of dinner, cocktails, live auction, and entertainment. Instead, participants enjoyed a beautiful day of 18 holes of golf, lunch, and refreshments on the course.
Friends and supporters of Tom King, Bob Moore and Beebe came together to raise $20,150 for Beebe. Then Bob's sons, Chad, Todd, and JB Moore, generously matched the funds raised for a grand total of $40,300 raised for Beebe Healthcare's Rehoboth Specialty Surgical Hospital.
The Tom King Nine & Dine committee chose to honor Bob for his years of service to Beebe and our community. Bob embodied many of the same values as Tom King: love of his family and friends, commitment to the local community, service on boards, and philanthropy.
After graduating from college, Bob Moore returned to Rehoboth Beach where he joined his father, working as a pharmacist and ultimately became co-owner of Moore's Pharmacy on Rehoboth Avenue. After the pharmacy closed, Bob became founder and senior executive of multiple local real estate development and hotel companies. He built and ran the Oceanus, Bay Resort, and Southwinds motels, and transformed the Dinner Bell Inn into the Bellmoor Inn and Spa, an award-winning select registry property.
Bob served as a Rehoboth Beach city commissioner as well as city treasurer. He was a member of the Rehoboth Beach Chamber of Commerce for 22 years, two of which he served as president. He was an active member of the Beebe's Board of Directors for 11 years where he served on the finance and investment committees. He also served on the Beebe Medical Foundation board for 11 years and served as its vice chair for the finance committee.
Bob would be proud to know that his family and friends came together to raise funds in his honor and memory to support Beebe Healthcare's Rehoboth Specialty Surgical Hospital.
"Our father always told us how much he was honored to be part of Beebe and its Board. He made many good friends there and giving back to his community was very important to him. He would have been humbled by the show of support at the Nine and Dine," said Chad Moore, Bob's son.
Nine & Dine committee members include: Chris King, Ralph Short, Dennis Forney, Kay Young, Amy Popovich, and Tom Protack.
"Bob Moore was such a gentle and kind soul," said Protack, President of the Beebe Medical Foundation. "At board meetings, he often was very quiet, but I learned quickly that when he spoke or asked a question it was on target and important. He loved Beebe and wanted it to remain a strong independent non-profit community healthcare system. Bob not only was a great board member and donor, but he was one of my great friends and I miss our conversations. I was honored to play a round of golf in his son's foursome and share great memories of a great man.  Now, is our turn to follow in his example."
---