In Too Deep? Snow Shoveling Safety Tips
With Coastal Delaware hit hard from the recent snow storm, Beebe Healthcare urges all residents to think of safety first when heading outside to dig out. The physical exertion of shoveling paired with cold temperatures increases the heart's workload.
"While we may be in an upward warming trend this week, winter is still not yet behind us," states Kevin Bristow, MD, FACEP, Beebe Healthcare's Medical Director for Emergency Services, who offered these heart-safe snow shoveling tips from the American Heart Association:
• Give yourself a break. Take frequent rest breaks during shoveling so you don't overstress your heart. Pay attention to how your body feels during those breaks.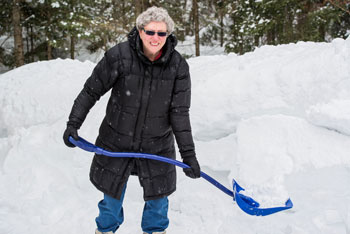 • Don't eat a heavy meal prior or soon after shoveling. Eating a large meal can put an extra load on your heart.
• Use a small shovel or consider a snow blower. The act of lifting heavy snow can raise blood pressure acutely during the lift. It is safer to lift smaller amounts more times, than to lug a few huge shovelfuls of snow. When possible, simply push the snow.
• Learn the heart attack warning signs and listen to your body, but remember this: Even if you're not sure it's a heart attack, have it checked out (tell a doctor about your symptoms). Minutes matter! Fast action can save lives — maybe your own. Don't wait more than five minutes to call 9-1-1
• Don't drink alcoholic beverages before or immediately after shoveling. Alcohol may increase a person's sensation of warmth and may cause them to underestimate the extra strain their body is under in the cold.
• Consult a doctor. If you have a medical condition, don't exercise on a regular basis, or are middle aged or older, meet with your doctor prior to make sure you are healthy enough to shovel.
• Be aware of the dangers of hypothermia. Heart failure causes more deaths than hypothermia. To prevent hypothermia, dress in layers of warm clothing, which traps air between layers forming a protective insulation. Wear a hat because much of your body's heat can be lost through your head.
Also, remember to protect your lower back when shoveling snow. Consider these additional tips to keep your back injury-free:
• Pick the Right Snow Shovel: An ergonomically designed version may cost more, but it helps minimize painful bending to save your back as you shovel your driveway and sidewalks. Look for one that has a curved handle, adjustable handle length, and small, lightweight, plastic blade. Even better, consider using a snow blower.
• Lift Safely: Similar to weight lifting, bend at your knees, not your back, and use your legs when possible.
• Consider your Footwear: Wear smart shoes with good traction to avoid falling on ice.
• Ask for Help: If possible, and to avoid potential injury, particularly for high-risk groups such as the elderly, consider asking a neighbor, hiring someone, or contracting a service to help clear the snow.
Dr. Bristowe urges community members to remember to check on elderly and disabled relatives and neighbors. Because it can be difficult and dangerous to get around, many seniors have less contact with others during cold months, states the AARP. This can breed feelings of loneliness and isolation. To help avoid these issues, family members can check in on seniors as often as possible; even a short, daily phone call can make a big difference. Seniors can also arrange a check-in system with neighbors and friends, where each person looks in on one or two others daily.
Tips for Preventing Frostbite and Hypothermia
Other dangers associated with extreme cold temperatures include frostbite and hypothermia. Frostbite is caused when body tissue — usually exposed body parts away from your core like fingers, toes, ears or nose — freezes due to prolonged exposure to cold and a low wind-chill factor. Check out these tips from the CDC related to frostbite prevention: Prevent Hypothermia & Frostbite.
Beebe Healthcare is a not-for-profit community healthcare system with a charitable mission to encourage healthy living, prevent illness, and restore optimal health for the people who live, work, and visit the communities we serve. Beebe offers services throughout Southern Delaware, including a 210-licensed-bed medical center in downtown Lewes, a cancer treatment center, home care services, and outpatient facilities providing walk-in care, lab, imaging, and physical rehabilitation services. For more information on services offered through Beebe, go to Beebe Healthcare. To find out how Beebe Healthcare is creating the next generation of care for the community, go to Next Generation of Care.
---